I am not an art history major.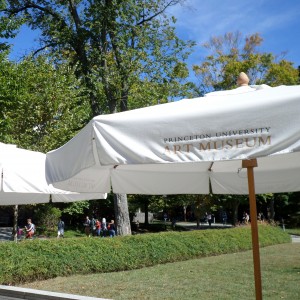 Don't get me wrong; art history is an important field with a lot of depth, but the Woodrow Wilson School of Public and International Affairs is where I expect to get my degree. So when I signed up for the freshman seminar Visual Art and the Representation of Knowledge, taught by Susanna Berger, I was following standard freshman advice: join at least one "fun-course-description-takes-priority-over-prerequisites" class while you still can.
Like most freshman advice, it proved to be correct. Visual Art's fun course description translated into engaging discussions on everything from hieroglyphics to comic books. On field trips to the Princeton University Art Museum, the Metropolitan Museum of Art, and the Museum of Modern Art, we had access to the primary sources at the root of our papers, which made research both more authentic and more exciting. The first two papers were limited to a certain collection or time period, relevant to weekly readings. The final research project, however, was a 10-page visual analysis of any artwork of our choice.
In art history, free choice is inherently daunting. With work spanning thousands of years across all continents, focusing on an original, worthy thesis topic involves a lot of questions. What more can be said about Michelangelo's David? What can't be said about Da Vinci's Mona Lisa? And does Duchamp's Fountain even fit in the same category? These are classic art history questions, and I cycled through them at first, trying to think like an art history major.
But I am not an art history major.
Taking a step back, I thought about how art intersected my experience in public affairs. I'd seen images generate excitement at community events and campaign offices during the 2012 presidential election, as a Summer Organizing Fellow for Obama for America. Regardless of voters' political views, the Obama Hope Poster always earned a reaction, even though it was created for the previous election cycle. Here was a recent artwork with an enduring effect, not yet fully explained. It was exactly the kind of topic that deserved thorough art historical investigation … perhaps not the first one that comes to mind, it's true; but by looking for the crossover between a seminar and a summer fellowship, I found one of the most rewarding research experiences I've ever had.
After investigating journals, newspapers, and even memes from 2008, I felt confident enough to reach a conclusion: the Hope Poster became an iconic symbol because it legitimizes Obama as a presidential candidate while asserting the originality of his national vision. But if you're not an art history or public affairs major, I can offer you this conclusion instead: I've learned that the best way to find a research question is to ask it yourself, unrestricted by the traditional boundaries of a field. Visual Art introduced me to the tenets that shaped art history so I could analyze a phenomenon that shaped my life.
So that non-required course you're not sure about? Take it. And that research project at the end of the semester? Take a risk. It might not affect your undergraduate concentration, but it's the best way to discover something major.
– Melissa Parnagian, Social Sciences Correspondent