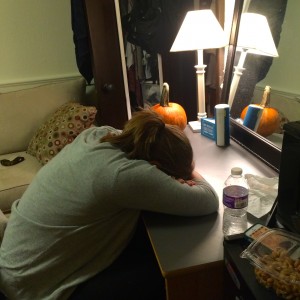 I will candidly admit that I was, for a long time, one motivated by fast approaching deadlines. In other words, I was known to occasionally procrastinate. Okay, I used to have a chronic procrastination problem. During my time at Princeton, I've had to abandon my favorite work-deferment method, which I've historically called "the thrill of the last minute," because, after one (or six) too many all-nighters early on in my college career, I've come to realize I am just getting too old for that type of adrenaline rush on a semi-regular basis. My realization may have also had something to do with the infamous Princeton workload consisting of term papers, Dean's date essays, and independent research that Princeton typically presents to students. I guess it doesn't so much matter why I finally decided to change my habits, just that I did get there eventually? Better late than never, I suppose.
My new approach to handling large writing assignments still involves using deadlines as motivation to produce pages. These deadlines, however, are no longer the ones given to me by my professors and advisers, but ones I set for myself upon receiving my syllabi. For example, if I know I have three Dean's Date papers, I set different personal due dates for each in the weeks leading up to their actual deadline. That way, rather than having to write 30+ pages in a week before that dreaded day, my work is much more spread out, and much less painful. If I procrastinate until the few days before my self-assigned deadlines—which I typically do because I prefer to write large sections of papers at once— I still have time to carefully edit and rework my drafts. Rather than racing to hit submit, I am leisurely handing in final drafts I am happy with and proud of. I'm no longer frivolously hoping that I found every typo in the paper as I rush to hand it in because I know I have read it enough times to feel confident in my work. It's crazy how much editing you can do when you have multiple weeks or days—rather than hours—to do so.
The "create your own deadline" method may not work for everyone who loves the "thrill of the last minute" as much as I once did, but it undoubtedly changed the quality of my written work throughout my college career. I promise though, once you find a method that works for you personally, the procrastination addiction can certainly broken. For some of you, I know that this may involve first breaking a Netflix or Sunday football addiction—which, trust me, I understand may be the hardest step. Once you get past that, though, procrastination does not have to be forever debilitating. It's a beautiful phenomenon, really, when Dean's Dates become a lot less terrifying, and junior papers or theses become mentally manageable, rather than unbearably daunting.
— Annie Woehling, Social Sciences Correspondent