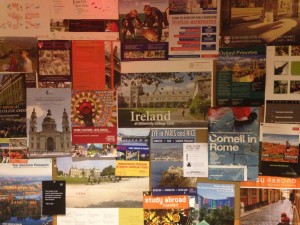 Many people think about studying abroad while at Princeton, but only a select few actually apply. I seldom hear of research-oriented students studying abroad.  Many of us fear leaving behind the Princeton-centered academic research we've grown attached to. However, study abroad can be an amazing opportunity for student researchers to learn about their fields from an international perspective.
Next semester, I'll be studying abroad at University College London (UCL). In addition to taking classes at my new university, I also hope to get involved in its research community. It seems easy to get caught up in the grandeur of being in a new location, focusing on exploring the area and forgetting to engage in meaningful and intellectual pursuits related to research. Therefore, I have spent the last few days trying to brainstorm ways to tie my research ambitions in with my plans for studying abroad. I've come up with a few pre-departure tasks that I feel will help me keep my research at the forefront of my mind while I traverse across the seas:
Task 1: Define & Operationalize "Research"
While most researchers going abroad will say, "I want to get involved with research while abroad," not many take time to think about what that means for them in the context of their new environment. Do you want to be as involved as you are at Princeton?  What steps are necessary for obtaining that level of involvement at your peer institution? I've started to reach out to professors I'm interested in working with at UCL to better understand my opportunities for involvement in the research community.
Task 2: Develop Concrete Goals
It is easy to think about going abroad as a way to learn an endless amount of new things. Without goals, however, we stick to old habits and experiences. I plan to make a detailed list of the research goals I want to accomplish while abroad, so that I know exactly what I hope to take away from the experience. For example, one goal on my list is to join a research lab that is completely different from the lab I currently work in at Princeton. This way, I'll be exposed to and completely immersed a new area of Psychology that I find interesting.
Task 3: Plan for Research Fun
With the busy Princeton student schedule, I sometimes feel like I never have time to to read research books and articles for pure enjoyment. However, I'm planning to find time while abroad to immerse myself in my field: already on my reading list are Outliers by Malcolm Gladwell and Choke by Sian Beilock. Traditionally, I over-commit to an absurd number of extra-curriculars, but I hope to break this habit while abroad so that I can spend more time doing the research-related activities that I love!
I have tons of planning to do in the near future, both logistical and research-oriented, but I'm encouraged by the thought of having the time of my life abroad. Although I'm extremely sad about leaving the "Orange Bubble," I look forward to the new experiences and knowledge that awaits me at UCL. I'll be blogging for PCUR while abroad, so be sure to check for updates throughout the semester!
— Jalisha Braxton, Natural Sciences Correspondent