The process of research might involve a complex mass of reading articles and crafting arguments, but the goal of research is simple: change. No one would devote time and energy to a concept if they didn't expect their results to make a difference. Whether adding to a field, correcting a premise, or highlighting some new phenomenon, the surest way to encourage change is to frame research with a strong presentation.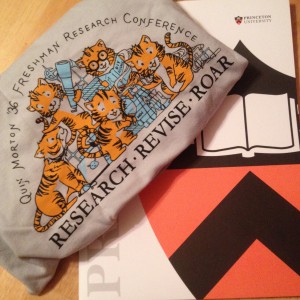 Princeton's writing seminar students can present their work to faculty and peers at the Quin Morton '36 Freshman Research Conference. PCUR readers are welcome, so save the date: Friday, November 21 in the Writing Center.  At last year's conference, I was selected to present my research on affirmative action. I felt first-hand the excitement of leading people to question beliefs they had firmly held just minutes before. Last Tuesday, I volunteered at a workshop on presenting research for this semester's Quin Morton student presenters.  The conference's motto "Research. Revise. Roar." hints at one of the workshop's biggest themes: finding your voice.
Presenting research involves a range of skills that are not necessarily included in the writing process, and chief among them is verbalization.  At a conference, research needs rhythm – a kind of steady confidence that proves your authority to people who don't know how long or hard you worked. They do know they want to learn something before post-conference handshakes, coffee, and donuts… But they also know there will be post-conference handshakes, coffee, and donuts, so your time at the podium is limited. That's why media is so crucial in presentations.   A powerful image can instantly spark reactions that would need two pages of written development. Anecdotes represented visually, or supplemented by statistics, create an experience rather than a summary of your research. And when research is experienced, it leaves a lasting impression on those who felt it. They'll not only remember your point, but wrestle with how it should be applied – which is, by definition, the root of change.
Overall, the Quin Morton '36 Freshman Research Conference is a great way to recognize the importance of presentation.  I can confirm there will be post-conference handshakes, coffee, and donuts; and even more importantly, I know it's an amazing opportunity to set ideas in motion. When you present, you accept the challenge to make your audience feel like their time – and your research – was worth it. Finding the right voice, framed by the right media, will undoubtedly make your research roar.
— Melissa Parnagian, Social Sciences Correspondent