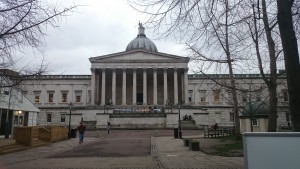 Hello from London, England! This semester, I've left the comforts of the Orange Bubble, traveling 3,500 miles to study at University College London (UCL). While my spring semester in London began a few weeks ago, I know that back at Princeton, the new term is just beginning!
The start of a new semester is always refreshing – it's almost as if we've been given a blank slate, a chance to start anew. I typically spend little to no time thinking about the past semester once a new one has begun, feeling as though the completion of final assignments signals the abrupt end to all thoughts relating to a particular course. However, this semester differed from past semesters for me.  One particular Dean's Date assignment stayed on my mind long after its submission and ended up impacting me in an unexpected way.
In my linguistics course from last semester, my Dean's Date assignment was to synthesize in 6-8 pages pertinent research articles on a topic relating to language acquisition, the subject of the course. With so much freedom in topic selection, I was able to personalize the paper to my interests and decided to investigate literature regarding how children use categorization to acquire language skills.
After spending an absurd number of hours searching for and reading articles, in addition to actually writing the paper, I finally submitted the final draft feeling attached to the topic and wanting to know more about everything regarding linguistics! Although the class was over, I found my paper topic creeping its way into many of my conversations, and I began searching for more books and articles on language acquisition in my spare time. I became intrigued with language, and found myself craving to understand things such as why children make certain grammatical errors, and how they learn to overcome them.
After noticing that my enthusiasm for linguistics persisted long after the submission of my Dean's Date assignment, I became determined to find a way to pursue this topic further. Eventually, I decided to incorporate linguistics into my research proposal for my Spring JP, investigating a (currently undetermined) area of psycholinguistic development. This will allow me to continue explore my newfound passion for linguistics while also completing my spring independent work for my psychology degree. I am so excited to start working on my JP, as I now feel as though I have found the perfect area of research that I am extremely passionate about and eager to understand!
With enough time and focus, assignments such as Dean's Date papers can help us internalize course material at a higher level, and sometimes even evoke within us a newfound passion for a particular topic. Unfortunately, this passion is typically pushed to the side after exam period, as the start of the new semester forces us to focus on our new set of courses. But with a little time and creativity, we can begin to find ways in which old course topics serve as inspiration for new ideas.
So before you clean out your binders and replace them with material for new courses, I'd encourage you to take a little time to reflect on the courses that really intrigued you last semester: with a little reflection, old interests may eventually lead you to new passions.
—Jalisha Braxton, Study Abroad and Natural Sciences Correspondent