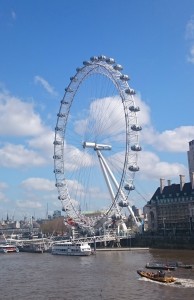 One of the biggest concerns students have when considering studying abroad junior year is how they will work on their independent work, specifically their Junior Paper (JP). While the experience of writing a JP abroad varies from person to person, I can say that I found writing the JP abroad to be a lot easier than I had initially expected! I did, however, intentionally seek out ways to facilitate the JP writing process. Here are a few things I did that can make JP writing a lot easier if you're planning to go abroad:
First off, I found it extremely helpful to start thinking about my JP in advance, at least a month before leaving for study abroad. Although I wasn't sure what I wanted to write about, I had a general area that I wanted to explore (cognition in the classroom). By deciding this early on, I was able to meet with my adviser and brainstorm potential JP topics. Together, my adviser and I also found professors at my university abroad who were involved in research related to the areas I was most interested in. I was then able to reach out to these professors via email to introduce myself and find out which classes they were teaching the following semester. I actually ended up taking a class based on the work done by a professor that I reached out to, and it really helped me narrow down my JP interests!
That leads to my next recommendation: design your coursework around potential JP topics. Princeton typically grants you a lot of flexibility in picking classes to take abroad, and with so much freedom, it should be easy to pick classes in the research areas you are most interested in! I took this advice one step further and enrolled in an independent study while abroad, which is essentially an opportunity to do independent work in place of a class. For my independent study, I conducted a literature review on the effectiveness of analogies in the classroom, an area of research that I had been considering for my JP. Enrolling in an independent study while abroad gave me the extra time I needed to narrow down my JP topic and discover an area of research that I found fascinating.
Finally, I found that setting personal deadlines was essential in writing the JP abroad. Being away from Princeton for the semester means no one back home really understands your course schedule, school calendar, or exam period. Therefore, it is completely up to you to determine the best time for you to chat with your adviser about your JP, as well as decide when a completed draft of the JP should be sent in. I ended up sending my adviser a completed draft of my JP a few weeks before I started exams here, enabling me to give my JP my undivided attention before I started exam preparations. With regards to the final JP submission, a date is usually set for you by your department. However, I would strongly advise anyone studying abroad to take this date as a last resort: there is no harm in turning your JP in early if that is what works best with your schedule abroad. I have yet to submit my JP, but hope to do so in the next few weeks!
With a bit of planning, writing your JP abroad can become both feasible as well as enjoyable. So go ahead and start filling out those study abroad applications; a great adventure awaits you!
–Jalisha Braxton, Natural Sciences Correspondent