With banners raised and schedules posted, it's safe to say Princeton is ready for another school year. But how do you know when you're ready – when getting (back) to campus finally feels like being on campus?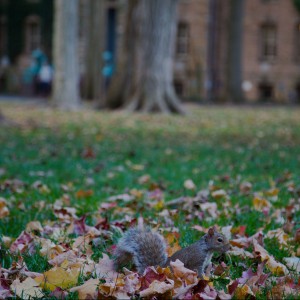 For returning students and first-timers alike, this transition is hard to verbalize. Maybe it occurs when you hug your family goodbye. Maybe it's when you empty your last suitcase. Or maybe it's when you organize everything from that suitcase – pillows neatly thrown on the bed, pictures of summer adventures hung with wall-safe tape. The 2015-2016 school year couldn't begin without these moments…but I don't think any of them bring that being-on-campus feeling. I actually think all of them do: Being here is a collection of moments that somehow combine to make sense.
At PCUR, we're all about making sensible combinations from smaller parts. In our own research, we analyze data from engineering, humanities, social sciences, and natural sciences to reach coherent conclusions. In our blogs, we filter through rumors about the research process to share universal truths – and universal pitfalls – that we've learned from experience. As students ourselves, we know what you're feeling. We've felt it. We're currently feeling it as the fall semester gets underway. Our goal is to make research less stressful and more exciting, which is why we hope you'll to subscribe to our research-related musings (using the box at the top right). If each PCUR post is a moment, then the overall blog is a collection to guide you through independent work.
While the transition to being on campus runs its course, PCUR will think about another important undergraduate transition: becoming a researcher. 'Doing a research project' is one thing, but thinking of yourself as a researcher is an entirely different phenomenon. It usually requires some immersive experience – whether in a required course, elective seminar, or summer internship – to find your focus and direction. PCUR's first series, The Project That Made Me a Researcher, will explore how our current bloggers found their place in independent work. We'd love to hear about your projects, too. Contact us to share your story, and we might feature it in a future post.
I'm excited to welcome new PCURs Bennett, Dylan, Emma, Kavi, and Zoe, along with veterans Jalisha, Stacey and Vidushi. As we navigate the world of independent work, we'll reflect on the ins and outs of research – and we'll be honest about the 'ehh?'s that sometimes come up. I hope you'll make us part of your research journey and check back often.
— Melissa Parnagian, Chief Correspondent