In confusion, we find revelation.
Last summer, as I've mentioned, I researched the interactions between Bermuda's groundwater and coral reefs. I entered the metaphorical woods: the ambiguity and self-doubt of immersion in data and details.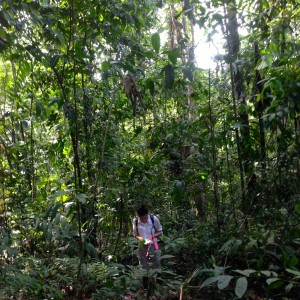 I came to the field with a set of expectations for my project: a conceptual forest, if you will. But in the field, I zoomed in, rebuilding this conceptual forest from the ground up. Surrounded by trees, details, and noise, I lost faith that I could find significant results – any conceptual forest at all.
On Day One of my project, I had an abrupt reality check. The groundwater discharge I was studying was nowhere to be found. I swam along the rocky coastline of Bermuda's Tynes Bay, dropping a salinity probe in the water at intervals. Not a trace. As I later learned, groundwater only discharges at low tide, and I was in the right place at the wrong time. But this was just the beginning, a first warning. Welcome to the woods.
This wasn't my first time getting (literally and metaphorically) lost in the forest. Last summer, studying rainforest trees in Costa Rica, I became convinced, at one point, that our research was futile. There was no way our messy data would yield any statistically significant results.
In the fall, however, with the data cleaned, sorted, and analyzed – it did. In part because of our questioning and confusion in the woods, we were able to reach the clear, exciting ground of results.
This summer, entering the woods was more familiar, and I knew to continue even when my project's vision felt like a distant fog. Yet I also struggled with new challenges, taking responsibility for an independent project, and feeling particularly disoriented and doubtful as I forged ahead on my research without knowing where it would take me.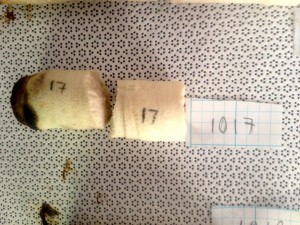 This was on my mind one day in conversation with Anne Cohen, my mentor. Anne is a tenured researcher at the Woods Hole Oceanographic Institution who studies coral reefs, environmental stresses, and paleo-climate. Describing her lab's current research, she agreed: it is hard to keep a project's big picture in mind when we are in the midst of its day-to-day details. "But look," she said. She drew an imaginary graph with her hands in the air to represent the results of her lab's experiment. She described her expectations for each of three treatment groups, and then connected these results, with perfect certainty, to the future of coral reefs. "That," she said with confidence, "is what we are doing."
I think this vision is part of what makes Anne such a talented scientist. This also gives me hope that, with time, perhaps I too might learn to hold on to my research vision – a map to guide me even when I'm wandering the woods.
I hope I might learn to embrace the woods more fully, and venture into the ambiguity of research without fear that my project will never return. The woods are a place of confusion, but also one of intrigue, surprise, and true discovery. It is by embracing the uncertainty of research that we open ourselves up to revelations.
— Zoe Sims, Natural Sciences Correspondent