On the last Friday before fall break, as each of my friends packed up their belongings and boarded New Jersey Transit to head home for the week, I found myself preparing for an entirely different experience. One of the courses I am taking, a seminar called The Arts of Urban Transition, took a five-day-long field trip to Detroit over break as part of an interdisciplinary urban studies program at Princeton. This program, entitled the Princeton-Mellon Initiative in Architecture, Urbanism & the Humanities, is a three-year project that allows students to examine these areas of study through project-based interdisciplinary courses. My class focuses on the roles of art and artists in urban environments undergoing change. Detroit has been a major focal point in the curriculum, which is why I found myself boarding a plane headed to the Detroit Metropolitan Airport.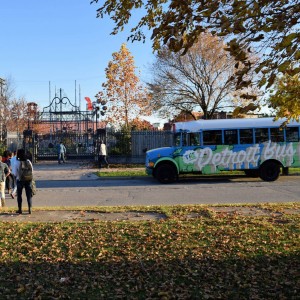 My seventeen classmates and I spent most of the trip visiting and researching different art initiatives throughout the city. These initiatives greatly differed in terms of size; we visited large-scale institutions like the Detroit Institute of Arts, as well as young, experimental artists doing innovative projects out of their own homes. At each site, we had the opportunity to speak at length with artists, tour guides and community members, all of whom were incredibly welcoming and informative. It goes without saying that over the course of those five days I learned a huge amount about Detroit's art scene and its relationship with the city. However, I also learned many valuable lessons about how to approach such a research experience. Here are three take-aways that I found to be particularly important:
Be a respectful visitor.
This may seem obvious; however I think that keeping in mind this piece of advice is especially important when visiting someone else's community. While we were there to observe and grow to understand certain aspects of the city—including the financial and social strife of contemporary Detroit—we wanted to refrain from fish-bowl-style observation. For us, these conditions were a temporary subject of study, but for many Detroit residents, they are a harsh and enduring reality. Navigating that situation was inherently challenging, but I continuously tried to be as conscientious as possible, whether that involved asking for permission before photographing certain places or simply making sure to listen to community members' perspectives.
Recognize the privilege you have as a Princeton student.
Throughout the trip, I thought a lot about how we had access to certain information and resources because we are members of an elite university community. We were able to speak one-on-one with world-renowned artists in the studios where they produce their art—an opportunity that is not by any means typical. For instance, we had the chance to have a personal talk with Tyree Guyton, the internationally acclaimed artist behind a famous Detroit art installation called the Heidelberg Project. As Tyree explained his work, I found it valuable to remember that not everyone has the chance to hear a detailed account of the Heidelberg Project. I think that acknowledging this privilege gave me a broader understanding of the art projects we saw. The perceptions I formed might be different from those of other community members, who may not have access to the dialogue surrounding this work.
Consider the context of your sources and their roles in their community.
When listening to an artist speak or receiving a tour at a museum, I found it particularly important to consider how individuals and institutions interact with the city and art community. The way in which a representative of an arts-based philanthropic foundation views art in Detroit certainly differs from the perspective of an experimental performance art group. I tried to keep these differences in mind and let them inform the questions that I asked and opinions that I formed. Considering the greater context of different sources is an excellent way to gain a richer understanding of your research topic.
While I found these three pieces of advice to be particularly relevant for my fieldtrip, there are many other factors to keep in mind when doing site-specific research. How would you approach a site-specific research project in an unfamiliar setting? Let us know here!
—Emma Kaeser, Social Sciences Correspondent