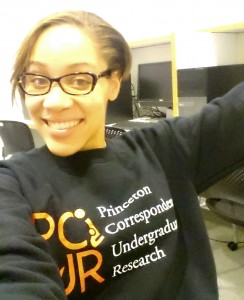 As a second-semester senior, one thing seems to be taking over my life: my thesis. I eat thesis. I sleep thesis. I breathe thesis. The only other thing really going on in my life is interviewing for graduate school programs, and remarkably enough, the main thing that interviewers want to hear about is…yep, you guessed it: My thesis.
Of course, I knew I would get asked about my thesis during my graduate school interviews since I am a psychology major applying to PhD programs in psychology. However, what I find most surprising is the amount of time I spend discussing my thesis during the interviews. Interviewers don't just want to know what inspired me to conduct research on the role of writing in learning through analogy. They also want to know about the literature I read to form my hypotheses, the methods I used in my experiment, their potential limitations, and how I think the research can be expanded in the future. Little time is spent during the interviews discussing my summer internships and research experience in various labs; instead, my thesis steals the show. Fortunately, I know a lot about my thesis research since I started it junior year for my JP, and now I actually re-read my JP before every graduate school interview (who knew my JP would be so useful?!)
Until now, I never really realized how useful my senior thesis would be for my graduate school application. Now, however, I see that graduate school interviewers ask about my research interests and capabilities to determine if I'm a good fit for their department. Through this process, I've learned to never underestimate the importance or influence of independent work; I'm thankful to have my thesis to discuss during my graduate school interviews, and hope the work I've put into my thesis will continue to pay off as I develop as a researcher.
-Jalisha Braxton, Natural Sciences Correspondent