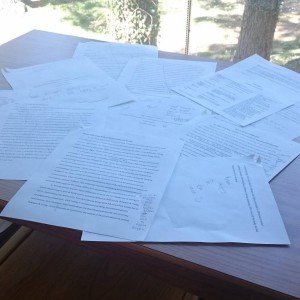 With JP and thesis deadlines quickly approaching, many students have moved from the writing stage to what seems like a never-ending cycle of editing and revising. Editing and revising independent work (or any long paper) can be daunting, mainly because there's a lot of content and there's always some way to improve your writing. While there is no "perfection test" to let you know when your independent work is immaculate, here are some telltale signs that you should probably just hit submit:
You're writing in circles.
It's great to rewrite/reword sentences for clarity purposes, but if you find yourself reordering parts of a sentence to no avail, it may be time to either a) ask someone else for their opinion on what sounds best, or b) leave what you had originally and move on.
You spend a lot of time "editing", but nothing is changing.
Editing is a verb, and if you are spending hours upon hours staring at your document without actually touching it, truth be told, you're probably not editing. If your inactivity is fueled by the fact that you really can't find anything else to fix in your paper, then its probably safe to say that your work is a true reflection of your abilities — You should probably turn it in.
The deadline has come (and gone)….
There are some special cases where students need extensions for large projects like independent work. However, if you feel like your paper is complete and the reason you haven't submitted your assignment is because you're afraid of receiving a grade on your work, it might be time to let it go.
It's true that turning in independent work can be scary. It's also true that, no matter what, you should wait until you feel ready to turn in an assignment. But keep in mind that turning in independent work is also a rewarding experience. Hopefully this post will help you determine your readiness to turn in your paper and enter post-JP or post-thesis life!
Special thanks to my roommate Morgan for helping me brainstorm the points for this post!
— Jalisha Braxton, Natural Sciences Correspondent