This semester, each PCUR will interview a Princeton alumnus from their home department about his/her experience writing a senior thesis. In Looking Back on Undergraduate Research: Alumni Perspectives, the alumni reveal how conducting independent research at Princeton influenced them academically, professionally and personally. Here, Zoe shares her interview.
~~~~~~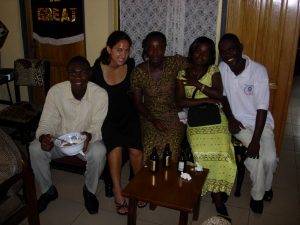 At Princeton, Kristin Schwab '09 was a year-round student-athlete: a striker on the field hockey team, a midfielder on the lacrosse team, and an Ecology and Evolutionary Biology major with interests in medicine and global health. Her independent work on Ghanaian vaccine policy took her halfway around the world, and ignited a passion that continues to shape her work and career.
I relate to Kristin's path: I also compete year-round (on the cross-country and track teams), and I've also done fieldwork abroad for my senior thesis in EEB. Listening to Kristin reflect, I heard some familiar themes – the role of athletics in shaping her Princeton experience, the challenge and meaning she found in fieldwork. Yet Kristin also shared a refreshing perspective on how research has continued to shape her career and personal growth, even now, 8 years after handing in her thesis.
Coming to Princeton, Kristin knew she wanted to become a doctor.
"One of my goals at Princeton was to get some experience with international health care," she explained. She sought advising from Princeton Professor Adel Mahmoud, who is trained as a doctor and researches infectious diseases and vaccines.
Through Mahmoud, Kristin learned of a vaccine trial underway in Ghana, evaluating the effectiveness of a rotavirus vaccine on children. She focused her thesis research question on this trial: if the researchers found the vaccine effective, what would be the barriers to implementation? During the summer before her senior year, Kristin spent eight weeks in the field interviewing healthcare professionals, patients, and the mothers of children enrolled in the trial. She spoke with people at all stages of the trial about the challenges of implementing the vaccine.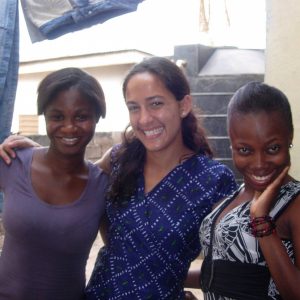 Adjusting to the fieldwork was a challenge: the survey Kristin had drafted in advance of her trip ended up not being completely applicable, and she had to learn to be flexible navigating a foreign country and the sometimes-unpredictable schedules of the doctors she interviewed. More broadly, she harbored concerns that the broader story behind her research would not surface.
"By the time I left Ghana, I hadn't had a chance to sit down and figure out if all this information I had collected would reveal something interesting," Kristin explained to me.
But Professor Mahmoud was supportive, emphasizing that her fieldwork was a valuable experience and an important first step, even if it wasn't perfect. An evolving question, he told her, is part of the scientific method.
Back at Princeton, as she sifted through her field data and wrote her thesis, Kristin says the intensity of year-round varsity athletics helped keep her balanced, concentrating on one thing at a time: at the library, she was totally focused. And on the field, she was formidable.
She also benefitted from Professor Mahmoud's mentorship. He guided her through the medical school application and decision process, and the two stayed in touch after her graduation. When Kristin was in med school at UPenn, she saw Mahmoud a few times a year when he came into Philadelphia; she, Mahmoud, and another of his former advisees would all catch up over dinner together. He also helped her choose her current residency program at UCLA, where she is now the chief resident in internal medicine.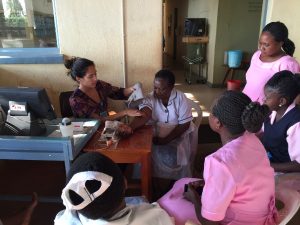 Looking back, Kristin says she sees her undergraduate research as an important part of her growth. Throughout med school and her residency, Kristin has traveled to Nicaragua, Haiti, and Malawi to work in health care centers, keeping in touch with her long-term interests in global health.
"My thesis was my first introduction to global health," she told me. "It was something I had really wanted to do even before college, and it helped set a foundation for my future goals – even now."
— Zoe Sims, Natural Sciences Correspondent