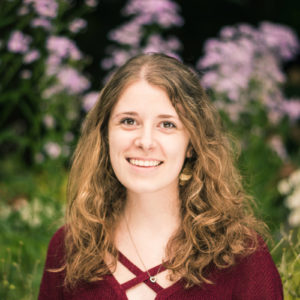 Kristin Hauge is a senior from Westfield, New Jersey majoring in Music while pursuing certificates in Musical Performance (Piano) and Teacher Preparation. Not only does she participate in a number of ensembles on campus (e.g. Princeton Pianists Ensemble, Sinfonia, and Glee Club), she also has been composing music since high school. And instead of your traditional research paper, Kristin composed an entire composition for her independent work her junior year. If you're used to conducting studies in the social sciences like me, you're probably wondering what research is like as a music major. Thankfully, Kristin took some time away from her numerous rehearsals to answer a few questions:
Can you tell us a little bit about your Junior Project?
My JP was a 4-movement string quartet (a composition for 2 violins, viola, and cello). I titled it Quartet Op. 1 "Sparrow" because I thought that the music could be loosely interpreted to describe the life of a sparrow. The piece was about 18 minutes long, and it was performed at an independent work concert in May of last year by a few of my friends from orchestra.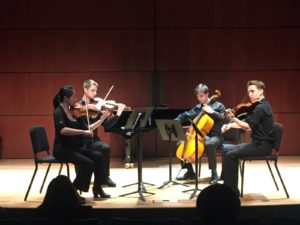 How did you go about doing research for your composition?
While I didn't do what you'd think of as "traditional research," I definitely used what I had learned in my music theory classes in my JP. In those courses, I learned some of the compositional methods that different composers have used and explored how to incorporate a variety of them into my own work. Additionally, I would think of pieces or composers that I liked, and use them as inspiration for the styles I wanted to embrace or the kinds of material I wanted to produce.
What kinds of work/study habits did you find helpful?
Composition is tough because you can't always just sit down and will yourself to produce something. There are definitely times when I'm more productive and efficient than others; sometimes I'll just be walking across campus and suddenly think of a musical idea, but then I'll have trouble coming up with material later when I sit down with the intent to compose. With this in mind, I found it helpful to make mini-deadlines so that I could get reasonable amounts of work done on time without overwhelming myself, and to schedule advising meetings once a week to keep me accountable.
"I found it helpful to make mini-deadlines so that I could get reasonable amounts of work done on time without overwhelming myself."
What are your plans for your thesis?
For my thesis, I'm planning to write an orchestra overture (which will be about 10 minutes long). Right now, I'm not planning to write a piece with multiple movements, but I want to write a piece with several themes and sections. This composition will be more involved than my spring JP since it will have many more individual instrumental parts, but I'm looking forward to the challenge. My thesis adviser was also my JP adviser, so it has been easy to work with him since we've worked together in the past. Furthermore, he has lots of experience with orchestral composition, so his guidance has been invaluable as I embark on this project.
While it's clear that writing a composition is a lot different from writing a literature review or conducting an original study, Kristin's experience shows how anybody can benefit from incorporating class concepts and setting small deadlines to get through independent work.  Moreoever, no matter what department you're in, advisers are always amazing resources for helping independent projects go smoothly.
You can listen to Kristin's JP here and more of her original work late in the spring!
—Taylor Griffith, Social Sciences Correspondent