Have you ever wanted to learn how to use Photoshop? How to write code in multiple programming languages? How to use Excel? InDesign? Adobe Illustrator?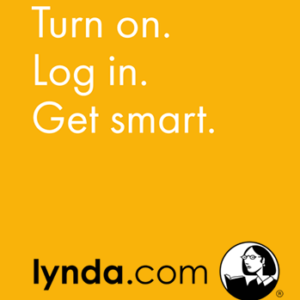 This semester, as part of my Urban Studies Certificate, I'm taking ARC 205, an interdisciplinary architectural design studio. Like most studio classes, we meet for six hours a week to develop our drawing, design, and analysis skills. Each week our instructors present us with a new drawing assignment designed to improve our architectural analysis skills. Pretty much everything we're learning in this class is totally new to me. I've never really drawn – aside from doodles on my notes – and most of our assignments are far outside of my comfort zone. There hasn't yet been a week when I've felt confident about my work, but in the past week, I've discovered a resource that might change that.
Of course, my three professors are unbelievably supportive. We spend much of our class time doing "Desk Crits," during which the instructors circulate around the studio, giving personalized feedback to each student on their work – somewhat like Tim Gunn on Project Runway. And recently, they've started meeting with us one-on-one outside of class to go over skills we need for our projects.
Even so, there is only so much time the instructors can spend with us a week. And when it comes to more complicated projects, we have to do our best to figure it out on our own.
This week, for example, we were assigned our first design project. Until this point, we've merely redrawn existing designs (sounds easy, but it was truly the hardest assignment I've ever been given at Princeton). For my design project – an architectural collage – the instructors encouraged me to use Photoshop – which I had never even seen, let alone used.
Luckily, Princeton always has my back. When I asked them for help, my instructors directed me towards Lynda, an amazing online learning platform for all things software and design. Each year, the University pays for every student to have access to this fabulous resource. Just log in with your NetID, and you have access to hundreds of videos and activities in almost every field of business, software, and technology. Tutorial topics include design software, computer programming, and web development. Each tutorial comes with a series of digestible lessons helping guide you through the skill you wish to learn. And because it's online, you can go at your own pace and select only the skills you're most interested in developing.
I'm far from a technology wiz, and I've found Lynda to be incredibly easy to use and its lessons to be thoughtfully organized. Watching the Photoshop tutorial has not only rescued my project for class this week, but also given me skills I can use long after the semester is over. Lynda is just one of the many hidden resources available to students on this campus, but it's definitely one worth checking out. For a more complete list of software available to students, see this list from the Office of Information Technology website.
–Rafi Lehmann, Social Sciences Correspondent