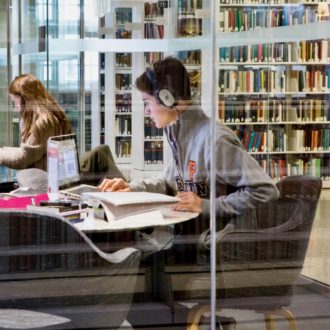 As we are all undoubtedly aware, another break is coming up. Thanksgiving break, actually! Excitement is in the air as cherished plans for relaxation and the celebration of gratitude inch ever closer. Whether you're going home or sticking around campus, I'm sure you're looking forward to this break as much as I am.
There's just one problem: right on the other side of this break are the final three weeks of the fall semester. And if your course schedule is anything like mine, those will be three rather busy weeks! So, with break coming up and the final pre-winter break sprint right behind it, this is a perfect time for you, me, and everyone in between to come up with a game plan for what's ahead.
Here are several tips I have for striking the optimum balance of work and relaxation over break:
Reflect on fall break.What work did you plan to do, and how much of it actually got done? Was the first week back a stressful reversal of the prior week's relaxation, or were you coasting?
Compare your Thanksgiving workload (including what's due the week after Thanksgiving) to that of fall break. With a rough idea of the ratio of planned to completed tasks you accomplished over fall break, you can begin to assess the feasibility of your current planned workload for the upcoming break. (I.e., if you only completed half of what you intended to over fall break, don't expect to accomplish 100% of your over-Thanksgiving tasks without some adjustments!)
Think about your Thanksgiving break plans.When will you be busiest, or spending time with friends and family? Obviously, you'll want to plan your work around those times. But less obviously, putting your plans on paper or a calendar app can lessen the sense of overwhelm if you do happen to have a lot of plans.
Find someone to hold you accountable—both to your work and to your relaxation. Both are important! And Thanksgiving is uniquely challenging because the compressed timeframe means you have to do both in close proximity. Sharing your plan for work-enjoyment balance with a friend—and listening to theirs—will be mutually beneficial, as it will help to keep said plans realistic and to assist all parties with follow-through during the break.
An overarching consideration: be realistic!
Personally, I will be traveling home over Thanksgiving. This will involve some solo time on NJ Transit Trains and on airplanes to and from Indianapolis. While in an ideal world I would be super productive while in transit, in actuality I tend to be too excited (especially on the way home!) to get much done. This generally extends through the first couple days of a break. Only on the third or so day of being home am I feeling settled in enough to hit the books again. Unfortunately, the third day of Thanksgiving break is, well, Thanksgiving, so this time around I'll probably put most things off until Friday or Saturday. In situations such as this, I like to wake up early to work, so that I don't feel like school has "taken away" some of my time at home. The ultimate point is: you probably have your own productivity related idiosyncrasies, so incorporate them into your plans!
Finally, a word of caution: whatever you do, don't let your break become a total casualty to work. After all, it's just that—work. Thanksgiving is ultimately a time for stepping back and appreciating the bigger picture of your life and all of its many dimensions, of which all the academic wonders of Princeton are simply one facet. As one of my professors wrote in the Thanksgiving week of our syllabus, "Relax. Eat something." I couldn't agree more.
–Shanon FitzGerald, Social Sciences Correspondent