This past summer, I had the incredible opportunity to be a research intern in the Princeton Department of Geosciences through the High Meadows Environmental Institute (HMEI) Internship Program. As a rising college sophomore who had spent half of my high school years during the coronavirus pandemic, I was eager to seek out an opportunity that would allow me to engage in an in-person laboratory research experience, and this was it.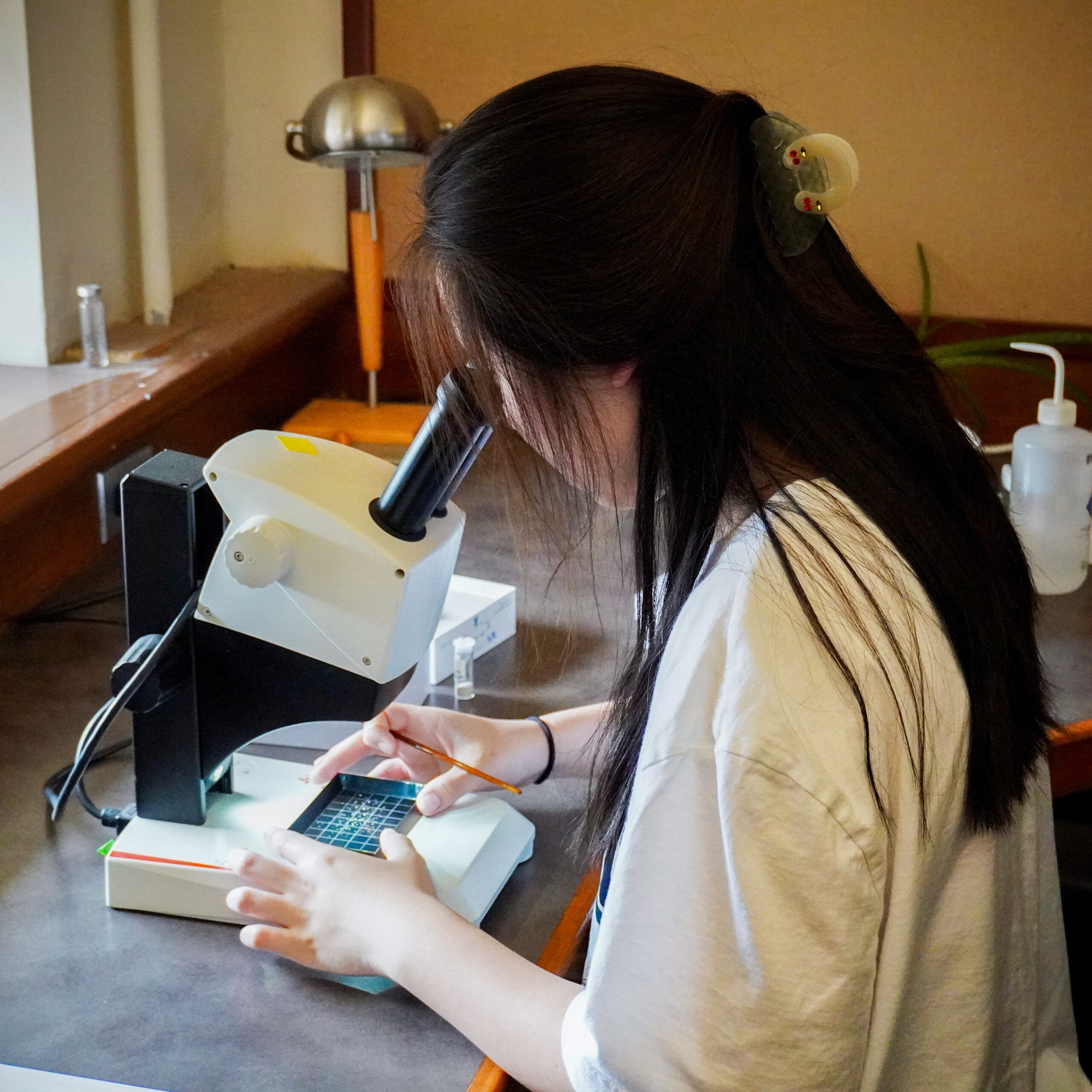 I knew I was seeking a summer research focus in the physical sciences, so while spending some time looking for Princeton-based STEM internships through the Office of Undergraduate Research, I discovered the diverse, multidisciplinary research opportunities offered by HMEI. One particular project caught my eye: "Reconstructing the marine environmental changes across the Cretaceous/Paleogene Mass Extinction with Nitrogen Isotopes in Planktonic Foraminifera." More specifically, I would be focusing on the use of foraminifera shells to gain insight into the ocean response during the Cretaceous/Paleogene mass extinction, which you might know as the geologic time period during which the extinction of dinosaurs occurred. Speaking with the graduate student and faculty member who were the hosts of the project, I discovered a new world of using biological proxies to gain insight into historic marine environmental changes, which would then better our understanding of how current oceans continue to respond to dramatic change in the present-day. I was extremely curious about the associated data collection, analysis, research methodologies and research rationale, so I decided to join the Sigman laboratory for the summer of 2023. 
Going into the internship, I sought to both develop relationships with mentors experienced in the field of geochemistry and gain experience working in a university research lab. After the COVID-19 pandemic, I was glad to be a part of in-person research and receive in-person mentorship throughout my learning. I was excited to meet my mentor in addition to other members of the lab. I learned more about interlab collaboration and heard about ongoing research endeavors and how the members all assisted each other in achieving their individual research goals. It was incredible to see how peers aided each other in improving the quality of each other's research methodologies, providing feedback on each other's potential ideas and pursuits. I witnessed the joy that could come from being a part of a collaborative and healthy lab environment, where I was welcome to ask questions and open to learn. My mentor, along with a few other graduate students, also worked to create a bonding opportunity with other HMEI undergrads by arranging weekly book club meetings, which facilitated a great deal of conversation about fields such as geosciences, physics, mathematics, and astronomy. I learned from discussions with peers and mentors with different academic backgrounds and interests, presenting various perspectives for a deeper understanding of the dynamic world around us.
I learned so much during the internship that it is difficult to summarize in such a short article. My graduate student supervisor was instrumental in making my learning experience worthwhile. Not only did we share a number of conversations about future opportunities and career ambitions in geosciences, but she also shared advice from her undergraduate and graduate experience. Her commitment to my learning encouraged me to maintain a proactive and inquisitive attitude, asking questions to relieve any confusion about the project context and research approach. I was excited to develop a solid understanding of fundamental methodologies and scientific concepts regarding reconstruction modeling in geochemistry.
My HMEI internship was an intensive but rewarding experience that served as a great connection between my coursework and the real-world. The significance of reconstruction modeling became apparent in my broader picture of understanding the future impacts of climate change on our natural and, by extension, our biological world. It was quite a different experience from the laboratory sessions in my Princeton science courses. It was meaningful to unravel an entire historical story and context behind why a specific methodology was chosen and why an experiment was being conducted. I had the chance to apply the knowledge I had acquired from my coursework and now visualize the real-life applications of the fundamental concepts I was learning in the classroom.
This internship affirmed my interest in studying Geosciences as my concentration at Princeton, piquing my interest in continuing to pursue research of a similar nature as a part of my independent work during my junior and senior years. I am inspired to continue seeking a deeper understanding of how the physical and living world responds to significant environmental changes to contextualize the planet's response to anthropogenic climate change. Through HMEI, I fell in love with the idea of using tangible pieces of history to piece together a story of the Earth during a time period which we otherwise would have been unable to understand.
This past summer, I delved into an exploration of the physical world during a mass extinction approximately 66 millions of years ago. Who knows what you could find in the depths of HMEI projects during the summer of 2024? Learn more about HMEI's internship program here!  
— Rebecca Cho, Natural Sciences Correspondent