Princeton Research Day (PRD) is an annual celebration of the research and creative endeavors by Princeton undergraduates, graduate students and postdoctoral researchers. The campus-wide event serves as an opportunity for researchers to share their work with the community and includes research from the natural sciences, social sciences, engineering, the arts and humanities. In this post series, PCUR correspondents cover a range of topics relating to PRD and highlight the valuable lessons this event has to offer.
This year, PRD will be taking place on Thursday, May 11, 2017. You can learn more about participating in or attending Princeton Research Day by visiting the official PRD website here.
~~~~~~
The idea of research often conjures up images of scientists with microscopes and lab coats. But, for many researchers, the process looks very different. Take theater student Julia Peiperl '17, for example. Rather than wearing the coat, she designs it.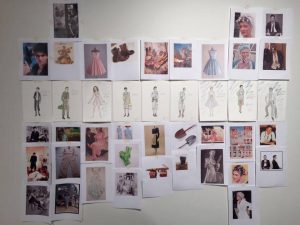 "Lots of people don't realize how much research goes into theatrical design," she told me as we sat down to chat about her experiences at Princeton Research Day last May. Presenting on her costume designs for the Lewis Center's February 2016 production of Sophocles' Elektra — which she had developed in a class on Advanced Theatrical Design — she hoped to showcase the detail and research that goes into such a creative endeavor. As an actor in the play, I was excited to learn more.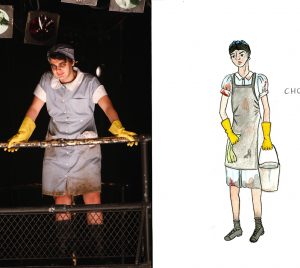 Clothing, after all, tells worlds about a person. A costume designer may spend weeks or months researching images that suggest a time period, an archetype, or even an emotion. For Elektra, a Greek tragedy, Julia found inspiration in the image of a 1950s "brush doll" provided to her by the lead actress: brush on the bottom, doll on the top. Much like a document might inspire a historian to turn to the archives, this image led Julia to do more pictorial research, eventually settling on a time period (the 1950s) and a color scheme (pastels). After designs were presented to the show's director, they were given to the Lewis Center Costume Shop to make a reality. This was not the end. In the coming weeks, just as a researcher continues to make changes and discoveries throughout the writing process, Julia worked with each cast member to refine the pieces and make them comfortable to wear. For my character — a maid in the two-person Greek Chorus — the director wanted me to seem "otherworldly." Hoping to convey this through aesthetics, Julia would bring in new costume and makeup ideas, even in the few days leading up to the show.
Continue reading Princeton Research Day: Spotlight on Costume Designer Julia Peiperl '17