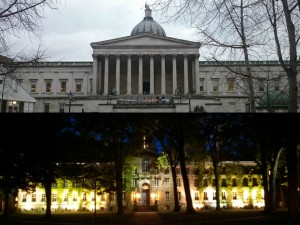 A common question I've gotten since coming to the UK to study is "what differences have you seen between classes in the UK and classes back home?" I've given some thought to this question and have decided to map out some of the various differences I've noticed between the curriculum design and expectations for upper level Psychology classes at Princeton vs. at University College London (UCL).  Each system presents different strengths in developing student researchers.
Lectures & Course Readings
Princeton: Many of my Psychology courses at Princeton were structured around a pre-assigned textbook. This practice helped with giving the course an understandable and predictable composition, with each lecture matching up closely with the units of the assigned reading material. Although professors generally provided supplementary information not found in the textbook, common themes and key elements of the course could be identified through the textbook readings.
UCL: Every lecture I have attended thus far at UCL has been heavily based in current research literature. The assigned readings are the research articles themselves. In the lecture, the professor typically picks a topic related to the course, then discusses current research on the topic, emphasizing both the merits and shortcomings of various studies. It is then discussed how the studies interact with one another, showcasing how newer studies are able to strengthen or disprove claims made by previous studies through replicating or altering experimental designs. Continue reading A Global Look at Educating Researchers