Over the course of the semester, PCURs will explain how they found their place in research. We present these to you as a series called The Project That Made Me a Researcher. As any undergraduate knows, the transition from 'doing a research project' to thinking of yourself as a researcher is an exciting and highly individualized phenomenon. Here, Zoe shares her story.
~~~~~~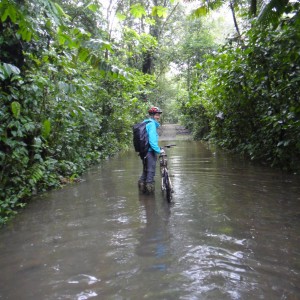 It was my first full day in Costa Rica. The dawn chorus of howler monkeys and quavering calls of Great Tinamou awakened us to a morning of intermittent showers, but no thunder — a good start, by rainforest standards.
Shouldering our backpacks, Cleo (my summer mentor) and I headed to the field, biking along the forest trail until a fallen tree forced us to leave our bikes and walk to the mud-slick path where some of Cleo's study saplings grew. She had been tracking these trees for a year and half as part of her Ph. D.
Everything that morning felt strange and new: my heavy snakeproof boots, the dripping forest canopy, the squish of mud and fallen leaves beneath my feet. This was not my first time in a forest, nor my first time doing research. But it was my first time doing research like this – research that I lived from dawn until I fell asleep. Continue reading The Project That Made Me a Researcher: Rain in the rainforest