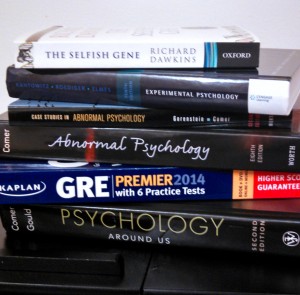 This past summer, I spent a lot of time thinking about my upcoming year back in the Orange Bubble. The transition from sophomore year to junior year is always described as being a tough one, especially for individuals in fields like Psychology, where independent research is required. Soon after declaring our major, we're bombarded with emails that not only welcome us into the department, but also welcome into our lives an assortment of questions concerning what we want to do with the next (and last) two years of our undergraduate education.
How are you supposed to make decisions concerning independent work without much research experience on campus? What professors are best for your research interests? What exactly are your research interests? After many late nights reading countless websites and emailing tons of professors, here's what I found about navigating junior year at Princeton.
Determining Your Interests
Now that you've picked a major, its time to figure out what it is that interests you most about that topic. Picking a subset of a field can be extremely difficult, especially if you haven't taken a large number of courses in your department yet. I've found that a great way to figure out your interests is to take a look back at your syllabi from previous courses you've taken in your department. What unit/section of the course did you like most? Is there one specific area you found yourself extremely excited about? Did you excel in one area more than others? Reflecting on your prior experiences within your department may help you determine what area or concentration is most interesting to you.
Choosing an Adviser
Choosing an adviser is critically important for your undergraduate career, as this person will be the one guiding you through your independent work at Princeton. Whether choosing an adviser for your junior or senior independent work, it's important to thoroughly research the professors in your department as well as the type of research they do. Knowledge of what classes a professor teaches is usually not enough to know whether they will be the best fit for you. Check out the lab websites of any professor that interests you, and consider emailing any professors whose research seems to align with your interests.
Exploring the Research Community
One of the best ways to understand the research-based independent work process at Princeton is to see research first hand. I currently work in the lab of Andrew Conway, who teaches statistics here for the psychology department, and being involved in the lab has really helped me become more familiar with psychological research and the psychology department as a whole! If research is something that you want to know more about, try emailing professors and inquire about attending a lab meeting sometime during the school year. These lab meetings are a great way to see what type of research is being done in here. Who knows, the professor may even offer you a position as a lab assistant!
Thinking About Spring Semester
Having independent work junior year doesn't limit the possibility of studying abroad. If you're interested in going abroad, however, be sure to stay up to date on deadlines, and start asking for recommendation letters early- I know a few of the programs have deadlines as early as next week! The Office of International Program's Study Abroad page (http://www.princeton.edu/oip/sap//) is very helpful for all information concerning studying abroad. Also, be sure to talk to your adviser about your plans to study abroad, and look into joining a research lab overseas!
Thinking About The Future
Not only is junior fall crucial for starting to think about your junior and senior year independent work, but it is also extremely important for determining your plans for life after college. Are you interested in entering the workforce directly after college? Want to go to med school? Is graduate school for you? Start looking into these now, so that you are aware of any entrance examinations (GRE, MCAT) that you need to be preparing for. Also be sure to research different fellowships if these are of interest to you, so that you are aware of any requirements before its time to apply.
With a bit of organization and planning, junior year can be one of the best years of your undergraduate career. Best of luck with all of your third-year endeavors!
– Jalisha Braxton, Natural Sciences Correspondent