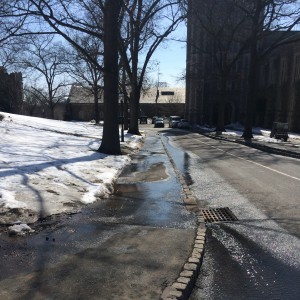 The saying goes that "March comes in like a lion…" and March certainly is one of the most difficult months at Princeton. Here are some of the things that get me down in March when it comes in like a lion…
brutal temperatures
unexpected snowstorms
midterm week
independent work crunch-time
springtime seems out of reach
…BUT the saying also goes, "…it also goes out like a lamb." Which means we can look forward to:
warmer weather, sunshine, and melting snow
independent work deadlines (consequently, submissions!)
no midterm week
bound theses, and more academic freedom
While we're all still submerged in what's typically the hardest month of academia at Princeton, let's remember that it does eventually all get done. I'm not sure how it does, and it certainly doesn't always feel like it's going to, but it does. April comes. In April, we no longer have to rejoice when it's 23 degrees because "at least it's not in the –teens", but can rejoice at forecasts of 60s and sunny. In April, theses get bound. In April, JPs are handed in. In April, there's no midterm week. April is just around the corner, so let's push through these final weeks that are separating us from great weather and a bit less schoolwork. Someone once told me "You don't see the finish line and stop for a water break"—so let's just keep our cool, and keep chugging along until we reach that finish line. No need for breakdowns and panics—we're right there. April is coming.
—Annie Woehling, Social Sciences Correspondent