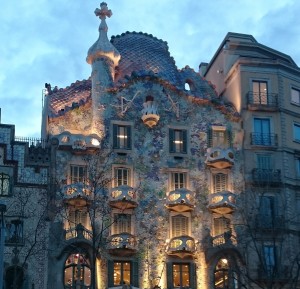 As students, we frequently ask a particular question regarding our coursework: "How is this going to help me in the future?" While sometimes posed sarcastically, with a hint of disdain for whoever invented subjects like Calculus, our intention behind asking this question has always been to elicit a meaningful response that proves our coursework worthwhile. For some individuals who plan to go into academia after undergrad (myself being included), the correlation between our current coursework and our future occupation is highly apparent: writing literature reviews and research proposals now will help us write better ones in the future. No brainer. But what about the individuals who plan to work outside of an academic setting?
Interestingly enough, I recently discovered that many students at British universities receive a document from each professor listing the indispensable life skills they'll develop through the completion of their coursework. These skills, referred to as "transferable skills"* for their usefulness in just about every occupation, encompass everything from thinking critically and negotiating to managing resources and communicating globally. This listing of skills not only seems beneficial for individuals looking to beef up their resume, but also for anyone trying to find purpose in their academic work.
After taking a glance at the transferable skills chart for one of my British courses, I decided to try my hand at picking out the skills that correlated to my Princeton coursework, particularly my Junior Paper.  Here's a snapshot of what "transferable skills" I think I gained from completing my Junior Paper back at Princeton: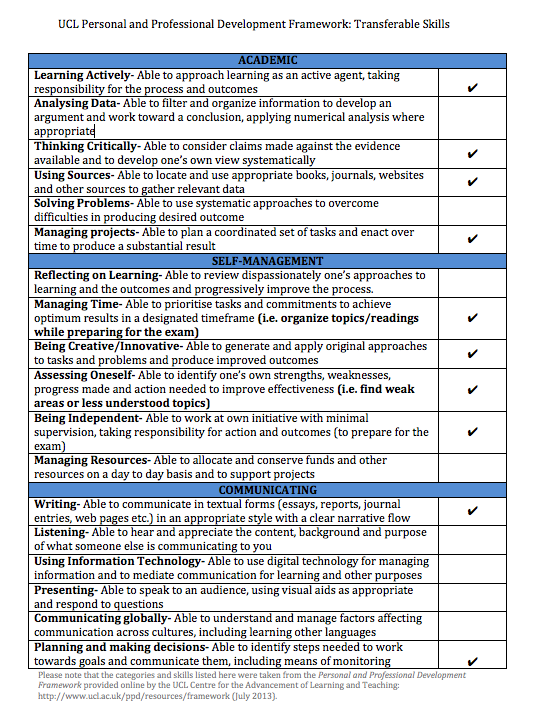 This activity made me more cognizant of the skills my JP can help me hone for careers that reside both within and outside the realm of academia.  To my surprise, however, it also made me more aware of the various skills I need to employ to complete my independent work successfully! Breaking down coursework into transferable skills, then, is beneficial for anyone wanting to understand both what they're expected to put into the course at present, in addition to what they'll get out of the course in the long run. So whether you're planning to write academic books for the rest of your life, or have plans that sound a bit less scholarly, I'd encourage you explore the transferable skills of your coursework. With regard to our futures, they're the answer we've all been waiting for.
–Jalisha Braxton, Natural Sciences and Study Abroad Correspondent 
*For a complete list of the transferable skills recognized by UCL, or for more information regarding transferable skills in general, visit www.ucl.ac.uk/ppd/resources/framework