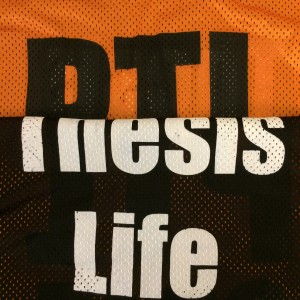 Congratulations to all seniors who have finally attained the legendary PTL! After four challenging (but hopefully rewarding) years, you deserve the relaxation that post-thesis life affords you.
But there are still many seniors who can only dream of such relaxation. And, as "#PTL" floods social media and the black tanks rapidly turn orange, it's hard to not feel a twinge of jealously for our carefree friends.
Don't let these friends distract you from the final push! These last few day are crucial for your thesis. As with all deadlines, the final approach is almost always the most work-intensive (even if you've been working diligently throughout the year).
In an attempt to keep you all motivated, here are a few words of advice:
Try to work with people in your department, or those who have the same thesis deadline as you. It's much easier to thesis life with other thesis life-ing people than on your own (or worse, with post thesis life-ing people…).
Adopt the mindset that PTL is a reward for all of your hard work, as opposed to a state of life that you just have to pass the days to get to. You'll enjoy it all the more when you feel that you have truly earned it.
Remember that your senior thesis is the culminating work of your four years at Princeton. You'd like it to be something you're proud of – and all it takes is a few more days of hard work to get it there.
The weather's nice… try working outside!
Finally, have no shame (or maybe just a little) in exploiting your PTL friends! Make them feel pity for you, then hit them with a request for a hoagie from the Wa. Never again will you have such power.
Stay strong my fellow thesis life-ing friends. PTL is just around the corner – work hard for a few more days and you'll be there!
– Yuem Park, Natural Sciences Correspondent