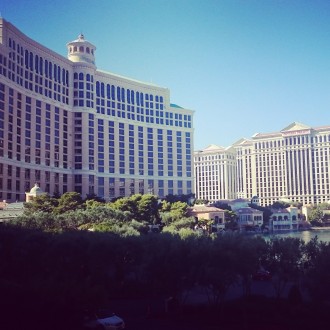 I am writing this blog while simultaneously unpacking my suitcase from one of the most eventful weekends of my Princeton career. Where did I go, you ask? Well, this weekend I flew to Las Vegas, Nevada, where I presented a research poster at the annual conference for the Society for Developmental and Behavioral Pediatrics!
Traveling to attend academic conferences is one of the many perks of being a researcher, and student researchers are no exception. These conferences allow you to expand your understanding of your field or related fields and network with people from around the world. While many students conduct research during their time at Princeton, however, the opportunity to attend and present at an academic conference seems almost illusory. If hectic class schedules and large conference registration fees aren't enough of a deterrent, the fear of being inadequate/unprepared can quell even the most hopeful Princetonians from submitting their research abstracts to conference committees.
I too felt fearful of submitting my research to a conference, feeling that my work was relatively basic compared to the work of my adviser and even other student researchers. Although I loved my research topic, which explored parental perceptions of children's self-esteem in relation to their reading level/habits, I significantly doubted its reputability in the research world. We as undergraduate students oftentimes view academic conferences as being exclusive, designed to show off the best and most complex research in the field. However, from my experience over the weekend, I've come to see academic conferences as a meeting place for researchers at all levels. There were, of course, researchers at the conference with numerous years of experience and tons of publications, but there were also many researchers like me, presenting their first undergraduate poster and feeling a bit skeptical about how their research got accepted in the first place!
Attending last weekend's conference is now one of the highlights of my college career, not only because I got to hang out in Vegas (though it definitely was a plus), but also because I grew so much as a researcher. I discussed my research with novices and experts alike, and received tons of feedback and encouragement that has bolstered my confidence in my ability to conduct meaningful research. I have to thank the Undergraduate Fund for Academic Conferences for providing me with the funds to make this trip possible; if anyone else is considering attending an academic conference, make sure you check out funding opportunities on SAFE– or consider presenting your research at the inaugural Princeton Research Day on May 5! Additionally, for anyone debating whether or not to submit your research for a conference, I would definitely encourage you to take a leap of faith and hit submit. I'm glad I did 🙂
-Jalisha Braxton, Natural Sciences Correspondent