As you might have noticed, everyone's talking about Princeton Research Day — but what is it exactly, and what can it do for you? In a campus-wide email about the event, Princeton Research Day was described as a chance to celebrate research on campus. Which, it is. But that premise might sound a little vague. Never fear, readers: To help you out, here's a list of 5 cool things you can do if you apply to present at Princeton Research Day.
1. Be a pioneer
Since this is Research Day's inaugural year, you get to participate in a brand new initiative between a bunch of important offices at Princeton: the Offices of the Dean of the College, the Dean of the Faculty, the Dean of the Graduate School and the Dean for Research.  Being first is always fun, but in this case, it's extra special — you'll be part of an exclusive cohort of students who'll define the face of research at Princeton.  And because no one else has gone before you, there are no precedents or expectations to match up against.  You literally can't go wrong.
2. Prove you're an expert on your work
You know those long, unending hours you've already spent on your Junior Paper, Senior Thesis, or doctoral dissertation? They did something to you. They made you an expert on a really interesting topic that most of your friends have probably never heard of. Princeton Research Day is a chance to prove your expert status to everyone you know. You can wow them with your awesome presentation and impress them with your ability to field difficult questions from other researchers and laypeople alike. If you need expert advice on how to prove your expertness, don't worry; you'll have access to workshops to hone your presentation and poster design skills before Research Day.
3. Network like you've never networked before
Princeton Research Day isn't a networking event; it's an event where you can network — which is a more authentic and less awkward way to meet people who share your professional interests. In conversation with other presenters, you could gain a ton of valuable insights: when to try alternative approaches, how to connect your research to internships or jobs, and what to watch on Netflix after the Research Day festivities have ended. We're sure all of this information is important to you as a current student and future professional. Talking to other presenters could be the source of lasting professional relationships. Forging lifelong friendships is also possible, but not guaranteed. 
4. Hone your elevator pitch (en route to changing the world)
When you condense your research into a ten minute talk or performance for Princeton Research Day, you'll learn to master the art of the elevator pitch — which, as far is we're concerned, is basically a super power. It's all about creating the maximum amount of impact in the minimum amount of time. Since one of the main challenges of research is making it relevant to everyday life and convincing others to paying attention, this is an important skill to develop. And it's an easy one to develop at Princeton Research Day, where an audience is waiting to be captivated by the information you present. You might convince them that your idea can change the world — and motivate them to take action on its behalf. 
5. Bathe in your moment of fame
Depending on your personality, this can either sound really great or really intimidating. But when else will you have a room full of people who want nothing more than to hear about the work that resulted from many dark hours in a library? We all have something in our work we're proud of, and this is the time for your work to shine. Plus, it's a great photo opportunity. Admit it: You need to update your Facebook profile picture, and an HQ shot of you presenting would be a solid choice.
If these five reasons haven't convinced you, maybe this graphic by Natural Sciences Correspondent Jalisha Braxton will: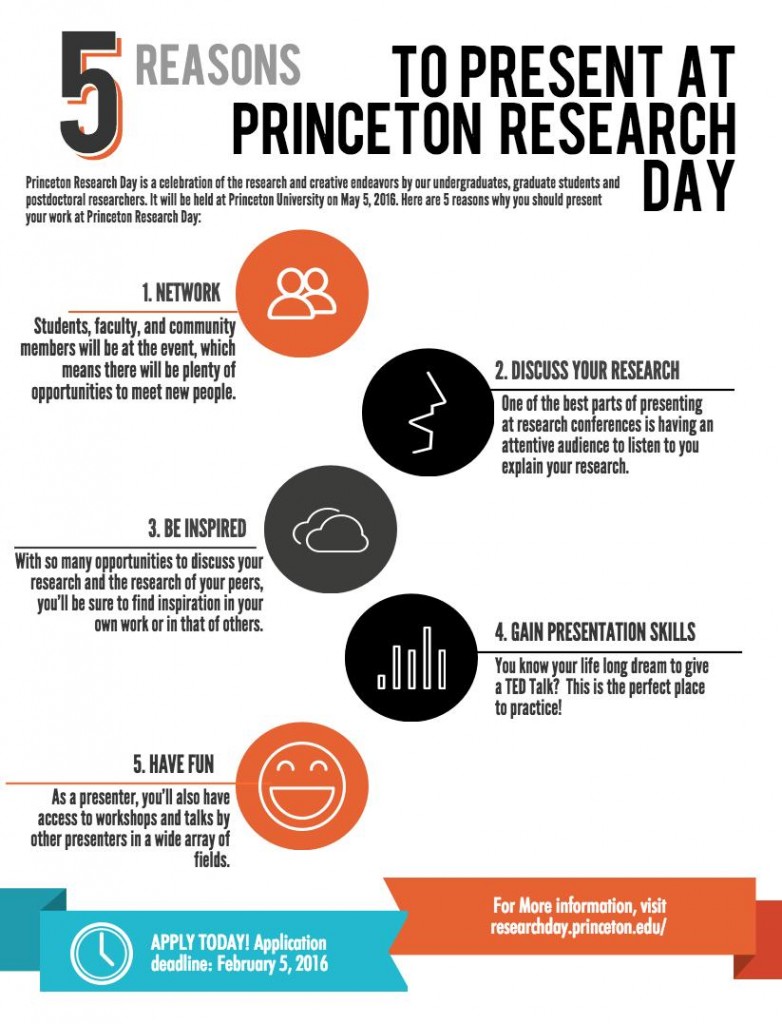 We could keep going with reasons to apply, but it might be best if we stopped here — so you can go submit your application (which is surprisingly student-friendly).
We can't wait to see you doing all these cool things — and more — on May 5th at Princeton Research Day!
— Melissa Parnagian, Chief Correspondent
Engineering Correspondent Stacey Huang also contributed to this post.