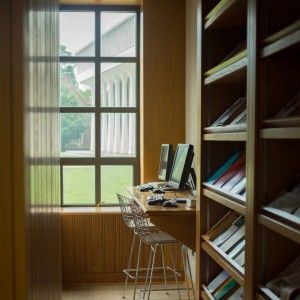 As spring semester approaches, most juniors are trying not to think about what's coming next: the spring JP. For psychology majors, the spring JP is a project proposal that often becomes a student's senior thesis. My JP-turned-thesis was on learning science through composing analogies, a topic that intersects my interests in psychology and education. While I was very excited about crafting my spring JP, I also remember feeling very overwhelmed. I knew that a well-done JP would save my senior self TONS of time in the thesis-writing process — but I also knew that planning your thesis during junior year puts a lot of pressure on you! Though I successfully used my spring JP as the foundation for my thesis, there are many things I wish I had thought about when I first designed the project. Here are some tips to be mindful of if you plan to base your thesis on your spring JP (and save yourself a lot of time during senior year!)
1)   Location, location, location!
Where will you physically collect your data for your senior thesis? This seems like an obvious question to ask yourself when planning your project, but there are a few follow-up questions that aren't as obvious: do you need special permission to gain access to this place? If so, how do you get it? Are there times throughout the day/semester when this place is off limits? How will this affect your thesis timeline? For my thesis, I needed a psychology running room with multiple computers so that I could test more than one subject at a time. I learned that these rooms are difficult for students to book during the semester, but easier to book during breaks and exam periods. This was extremely important for me to know early on so that I could plan my exam studying around my thesis data collection!
2)   Think carefully about your data collection process.
How will you obtain your data? What software will you need to analyze your data? When I was writing my JP, I glossed over a lot of the fine-grained details concerning data analysis, but in actuality this is one of the most difficult parts of the senior thesis. I realized later on in my thesis planning process that my experiment would require an outside data analyst, since my experimental design biased me as the experimenter. For professionals, this isn't an issue; but seniors don't typically have another researcher readily available to work on their thesis. I've decided to use a website called MTurk to obtain graders for my study. This website, which was recommended to me by my adviser and graduate students, lets experimenters post small tasks online that individuals around the world can complete for money. Unfortunately for me, using MTurk for data analysis means that I'll need extra money to pay my analysts, which leads to my next recommendation…
3)   Remember to consider data analysis costs in your funding requests.
Building off the previous two tips, it's helpful to think early on about how much your data analysis will cost. Some students require special software like STATA or SPSS to analyze their thesis data, which can end up being pretty costly. Some of these programs are available for student use on University computers, but it's important to check with your adviser to make sure. It's also important to think about whether you would prefer to have access to the software on your personal computer, in case you don't envision yourself slaving away on your thesis in a campus computer cluster! Considering data analysis costs during the JP process can help you figure out what to include in your thesis funding proposal down the road. 
With the right amount of planning, the spring JP can be a godsend for you come senior year. Hopefully these recommendations serve you well as you prepare to tackle your JP in the upcoming semester!
-Jalisha Braxton, Natural Sciences Correspondent