This spring break, I remembered why I love going to the field.
I am currently taking Latino Global Cities, a Spanish class about how Puerto Ricans — both on the island and in diaspora communities — form and maintain identity in an increasingly globalized world. Over Spring Break we travelled to Puerto Rico to begin to understand the Caribbean island beyond the palm trees and hotels. We visited communities and attended discussions about the lived complexities of an American colony in a "post-colonial" age. These issues can only be fully understood with first-hand experience that can both complicate and concretize concepts that seem so distant in books.
Practicing what my professor calls "anti-tourism" — a more critical kind of travel — we visited Fanguito, a conglomerate of eight poor urban communities in San Turce, outside of San Juan. There, Melba, a local activist, guided us around the community with her 6-week old baby in tow, who represents the 5th generation in her family to live in the community.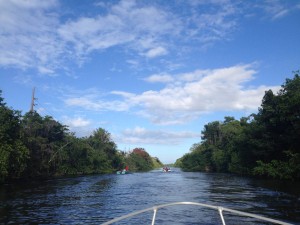 Melba told us about her community's most severe problem: water. Located on the Caño Martín Peña, far from the island's tourist-filled beaches, Fanguito sits on one of Puerto Rico's most important, and most polluted, waterways. Melba took us to the river to see the bags and water bottles strewn everywhere. It reeked of sewage, and she explained how toilets and sinks run directly into the water. This is a health hazard for everyone — plants, animals, and humans. Furthermore, the pollution has caused parts of the river to dry up, so that it is no longer navigable by boat.
The solution? Dredging. Dig up the water, get out all the trash, and create a sewage system that doesn't feed into the channel. The most obvious solution would be to let the government step in. However, Melba and other activists have seen what happens when officials take over: families get displaced, and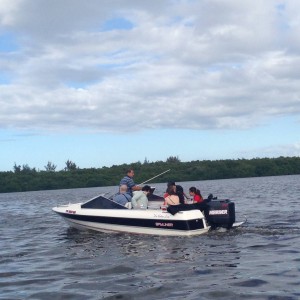 once the water is dredged, the land turns into lucrative real estate. This isn't just pessimism — it's a proven reality. About fifteen minutes away, Melba took us to another waterway, lined with condominiums, luxury houses, and yachts. She told us that it used to be a poor community, too, but that the government displaced families in favor of real estate. For Melba and other local activists, it served as an ever-present reminder of what could happen if they don't step in. "If we're eating the bone," she declared in Puerto Rican Spanish, "we're eating the whole chicken, too." In other words, if people were going to move out of their homes to dredge the river, they should be the ones to later enjoy the clean water.
Against formidable odds, the community has jumped into action. Locals have spent years working together to relocate — rather than displace — families living near the river. They have raised awareness of pollution and taught the community to rethink its relationship with the water. And they have gained national and international funding for the costly project — an impressive feat for a small community.
Stepping back, I am not only reminded of the importance of uniting to fight for important causes, but of why I value going into the field. We weren't just reading about the pollution, inequality, and community organization. We smelled the noxious sewage. We saw the excessive wealth down the river. And we listened to Melba as she bounced her crying baby and talked about Fanguito's future.
Entering the field means confronting subjects and people head-on. For me, it means getting wrapped up in a world distant from my own, immersing myself in its details, and learning from its struggles and hopes.
– Dylan Blau Edelstein, Humanities Correspondent