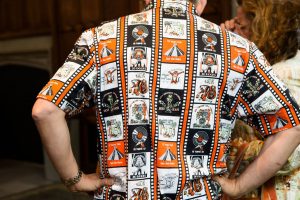 Back during exam period, when I unenthusiastically headed to the depths of Firestone for intense study sessions, I was motivated by a few exciting prospects. Most obviously, there was the idea of being done with exams and embarking on refreshing summer experiences. But for many Princeton students, the end of the school year also entails one of the University's oldest and most eagerly awaited traditions: Reunions.
Reunions is a three-day period at the end of May when all Princeton alumni are invited back to campus for a weekend of fun events, celebration and socializing. Graduating seniors get to attend, as do many other undergraduates who are participating in or working at events. I have the opportunity to go this year because I'm performing at Reunions with Princeton University Ballet. (If you are interested in attending our show–which is free and open to the public–it will be in the Frist Film and Performance Theater at 6:00 pm on Saturday, May 28!)

Many students look forward to Reunions' fun parties and big events like the P-rade—a giant parade in which all Princeton alumni walk with their class and are cheered on by their families, students and faculty. But Reunions is also a great opportunity to take advantage of the wealth of information, resources and networks that Princeton has to offer. People with incredibly diverse interests, backgrounds and career paths flood the campus, and every year, Princeton's Alumni Association organizes a variety of events to help us connect and learn from each other.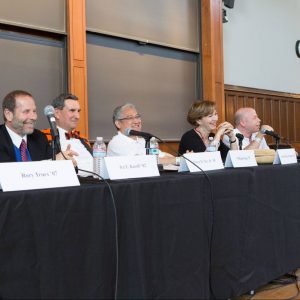 For one, Princeton organizes a series of Alumni-Faculty Forums (AFFs) in which alumni panelists discuss a broad range of topics. These discussions, moderated by members of the faculty and administration, range from talks on career advice to analyses of the United States' foreign relations. Some examples of 2016 AFFs are Who Gets to Say?: Free Speech on Campuses Today; Entrepreneurs – Are They Wired Differently? and Biotechnology: What is the Latest and Where are We Going? A full list of AFFs and more details can be found here.
Those who are interested in expanding their professional networks or simply learning about other Princetonians' career paths should head to the Committee on Careers Reunions Conference. This is a structured networking event designed to help participants connect with each other and hear advice on how to improve resumes and LinkedIn profiles.
The Alumni Association also organizes a variety of community service initiatives for people interested in civic engagement. The Classes of 1990, 1991 and 2011, for instance, will lead volunteers from the University community in a project for The Kids Against Hunger Coalition. Similarly, the Class of 1996 is supporting the Boys & Girls Clubs of Mercer County by collecting, organizing and distributing supplies for their summer camp. If you are interested in getting involved with one of these or any other community service initiatives at Reunions, you can find more information here.
I like to think of Reunions as all the best that Princeton has to offer, jam-packed into three unforgettable days. Disappointed that you had to miss a panel on climate change because it conflicted with your sports practice? Frustrated that you needed to write a paper and couldn't go to a networking event in mid-April? Reunions weekend is the perfect time to attend these events — and all the others that we miss during the hectic school year. Just when us students think the school year is over, and just when the graduates think their time at Princeton has come to a close, Reunions is a reminder of the University's vibrant and enduring community. For those who are lucky enough to attend, it will be an unforgettably engaging experience. And for those who can't go this year, don't worry—there's always next year and literally every year after that.
–Emma Kaeser, Social Sciences Correspondent