Although I was very excited to be done with finals, I was definitely not-so-thrilled about packing and storing my things before summer. After discovering that we lose access to our rooms two days earlier than expected, I've had to 'prepone' my packing plans (aka I realized that I needed to start packing early). So, in the midst of finals, I decided to take a study break and start cleaning out my desk so that I didn't have to pull an all-nighter after my last final (which would be dreadfully ironic).
While going through my drawers I found something that I hadn't actually seen since move-in day of freshman year: a hand-made lidden mini-basket. It took me a few seconds to remember how I had obtained it, but when it came to me, I felt a sudden pang of nostalgia.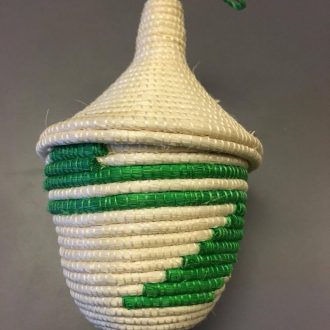 I had received the basket during the summer before freshman year while interning at The Echo Foundation, a non-profit education foundation near my home. The Echo Foundation was co-founded in 1987 by Nobel Laureate Elie Wiesel and current President Stephanie Ansaldo with the primary goal of serving humanity through education. Since its inception, the foundation has been creating educational curricula and programs to help character development in youth. One of these programs is the Footsteps Global Initiative (FGI) where the foundation selects a group of high school student ambassadors and takes them to places of humanitarian need around the globe. While the program wasn't active during the summer of my internship, I heard a lot about these trips at the office, and one story in particular really stood out to me.
Stephanie, my adviser and the president of the foundation, was telling us about her 2008 and 2010 FGI trips to Rwanda where she and the ambassadors learned about Rwandan history, culture, politics, and the education system in place. Together with the local leaders, they worked on research projects to improve education and healthcare standards for youth across Rwanda. Towards the end of her trip, Stephanie was visiting a hospital where she saw a young woman weeping in a bedside chair next to a small boy who was suffering from a spreading brain tumor. Although Stephanie assumed that she was the child's mother, it turns out that the child's parents had gone missing, and that this lady would walk several kilometers after work each day to keep the child company. The lady was crying because she was struggling to find the time each day to come care for the boy who she had become so attached to. After hearing the story, Stephanie wanted to postpone her trip back a few days to do what she could to help the situation. But this wasn't logistically possible, and they had to leave Rwanda. Stephanie told me that, to this day, she still thinks about the woman and wonders if the child survived.
I'm definitely not an extremely emotional person, but after telling the story, Stephanie noticed that I was very clearly affected by it. And so at the end of my internship, she gave me this small Rwandan lidden basket that I brought with me to campus last year. After finding it a few days ago, I realized just how powerful that story was. The fact that I can vividly remember every detail shows how much it impacted me, and is also a testament to the importance of the stories behind research projects and experiences. When we read research papers or reports, we take them for their face value and don't necessarily think about how these ideas were shaped and developed. But these accompanying stories and experiences are equally important to the essence of research.
— Kavi Jain, Engineering Correspondent