This semester, each PCUR will interview a Princeton alumnus from their home department about his/her experience writing a senior thesis. In Looking Back on Undergraduate Research: Alumni Perspectives, the alumni reveal how conducting independent research at Princeton influenced them academically, professionally and personally. Here, Dylan shares his interview.
~~~~~~
When I learned that Shayla Reid '15 was in New Jersey for her winter break, I jumped on the opportunity to interview her for this blog. She currently works as a Fellow through Princeton in Africa at Young 1ove, an organization in Gaborone, Botswana that implements health and education programming for youth. A Spanish and Portuguese concentrator at Princeton, she was one of the people who convinced me to major in the department. And now, as I began to write my own thesis, I was excited to get her insights.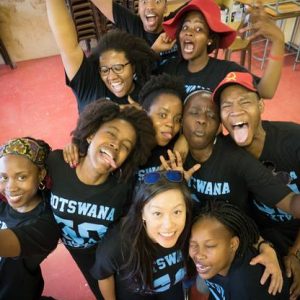 Shayla's thesis — "Mulher como protagonista": Women's Experiences with Parto Humanizado in São Paulo, Brazil — dealt with childbirth in Brazil, particularly the country's high C-section rate. Though surgical intervention is only necessary when complications arise, in Brazil nearly 60-70% of all births in public hospitals are C-sections, and upwards of 90% in private ones. Though she was interested in the cultural reasons behind the high C-section rates, she also sought more personal experiences. Thus, as a Princeton Brazil Global Fellow, she spent the summer of 2014 in São Paulo. Paired with an adviser at the local university, she began to visit women's health groups, interviewing women to see how they navigated the health care system in order to achieve fulfilling childbirth experiences.
Since Shayla was a Spanish and Portuguese concentrator, pursuing Pre-Med and a certificate in Global Health, her thesis seamlessly strung together her different fields of study. As an aspiring doctor, she believes this diversity of interests is one of her greatest assets. Not only has the thesis been a great talking point in Med School interviews, but it also granted her practical experience with patient-provider interactions and different health care systems. Furthermore, her language skills grant her access to communities, populations, and bodies of research that many doctors do not have. Indeed, knowing how to navigate cultural difference has been an asset as she develops youth programming at Young 1ove in Botswana, a country she had not visited prior to this job.
With all this in mind, I wondered if she had any pieces of advice for seniors currently writing theses. She smiled. Yes. She had two.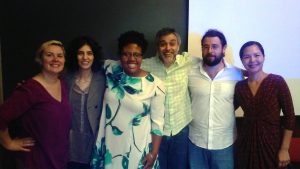 First: just start writing. The hardest part about independent work is the independent part. Hold yourself responsible. Create deadlines with your adviser and begin to put words on the page, even if they seem bad at first.
Second: find motivation beyond the grade. When I asked her to elaborate, she responded, "I was talking about real women's lives and I felt like I had to honor what they said. I had to do a good job. Honestly, that was the most motivating thing. Not the grade. I was writing it for the women."
— Dylan Blau Edelstein, Humanities Correspondent