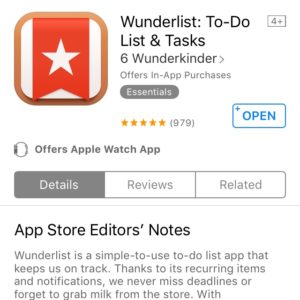 With the end of the semester and summer around the corner, it is hard to keep track of work when all you want to do is spend time outside. That said, there are still ways of staying on top of your daily tasks while keeping your plans to lounge in the grass. As opposed to giving tips on how to make your work sessions as efficient as possible, this week, I'd like to recommend a few apps to help manage your work.
Wunderlist
First up is Wunderlist, my favorite to-do list app. Not only does Wunderlist have the handy feature of categorizing tasks (e.g. School, Personal, Work) and letting you check them off when they are done, but it also syncs with your laptop. Once you download Wunderlist through Chrome, you can turn it into an extension of your Gmail account where it will show up as a sidebar next to your emails and calendar. In this way, Wunderlist helps keep your tasks handy and can act as a subtle reminder whenever you open your emails.
My Homework
Up next is My Homework, a student planner app that keeps track of your classes and assignments. Like Wunderlist, this app can also be downloaded onto both your phone and laptop, and will send you reminders about when your readings, papers, and problem sets are due. It's particularly useful for people who prefer to have a digital copy of their assignments in case they lose their handwritten ones.
Pocket
Finally, there's Pocket. If you find that you're too pressed for time to read an article you found or to check out a link your adviser sent you, Pocket is an app that let's you save them from your computer and phone. It also let's you add personal tags to articles so you can quickly find them later. This way, you can keep track of both your academic sources as well as your personal interests.
While these apps work well for me, there are many out there for you to experiment with and to find what you like best. If you browse through the app store's productivity section, you'll find programs for editing, organization, time management, and more. Similarly, the Chrome Web Store has a number of apps and extensions for your computer, including ones like Self Control, which can regulate how much time you spend on social media. I hope these apps are as helpful to you as they are for me in getting through the final push!
— Taylor Griffith, Social Sciences Correspondent