At the start of this school year, in a frenzy of self-improvement, I deleted all of my dating apps.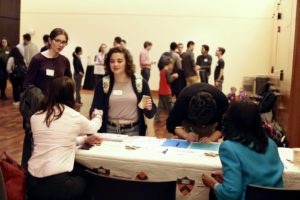 To be honest, I didn't think I would write about my relationship quandaries on this blog. But weirdly enough, they've actually started to help me understand my research experiences. Just keep reading…
By the end of Week 1, I had downloaded all of the apps again and even organized them into a folder on my phone automatically titled "Social." For all of the (very real) criticisms of this industry, there really is something so satisfying about getting that match notification on your lock screen. We all have days when rejection and loneliness cloud our vision, and it can feel weirdly reassuring to know that a stranger is interested in getting to know you.
On Wednesday afternoon, I recognized this feeling in a very different context. On a whim, I decided to attend Wednesday's ReMatch Meet and Greet at the Carl A. Fields Center.
What is ReMatch? Don't worry – I hadn't heard of it either. As their website explains, ReMatch is "a research-mentoring program designed to connect undergraduate students and graduate students…through their shared interest in academic research." Since its inception in 2014, the program has aimed to "provide undergraduates with early hands-on opportunities for mentored research…and to address, over time, the underrepresentation of certain groups in academic research communities at Princeton and beyond."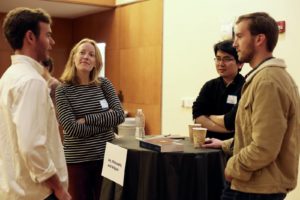 In October and November, ReMatch hosts informal Meet and Greets and Meals for Mentoring dinners where first-years and sophomores can get to know some of the amazing graduate students conducting research in their fields of interest. In December and January, undergraduates can opt to "participate in one-on-one or small group meetings, intersession research shadowing experiences, lab tours, and other activities with graduate mentors of interest." (Check out the PURC calendar for details on upcoming ReMatch events – if you missed a Meet and Greet, you're encouraged to attend a Meals for Mentoring dinner). In February, students who found a mentor match can apply for ReMatch+, a fully-funded summer research project supervised by their graduate student mentor.
The Meet and Greet on Wednesday felt, in many ways, like a match notification on a hard day. Tangled in my four-class routine, I was finding it increasingly difficult to approach my assignments with inspiration or creativity. At this point in the semester the conveyor belts of assignments and readings can feel stifling or prescriptive. But the ReMatch Meet and Greet re-energized me in unexpected ways.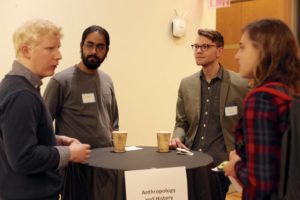 After making my name tag, I made a bee-line for the History & Anthropology corner of the room. There, I met generous graduate students eager to talk to me about my interests and, if asked, their inspiring research projects. Speaking with students who prioritize their passions and interests reminded me why I'm here and connected me with a network of mentors who, despite their busy schedules, just want to share what they love with me.
And even though it's a different kind of match than the one I'm used to, it's no less exciting – and probably more rewarding in the long-term.
— Rafi Lehmann, Social Sciences Correspondent