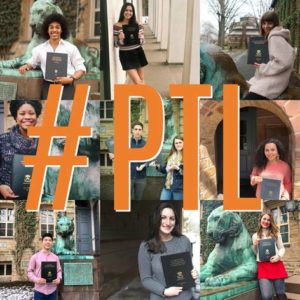 I think many would agree with me when I say that the spring semester is one of the hardest parts of the academic year. Not only are there fewer breaks to help space out assignments, but keeping up with back-to-back papers, problem sets, and assessments can really wear on students. Moreover, April and May can be particularly stressful due to the numerous independent work deadlines they contain. While some upperclassmen have already handed in their Theses and Junior Papers, several others are still working hard to the finish line. By the time the due date comes, many will be tempted to submit their work without a second glance. But the last thing anyone wants is to finally send in their results only to later realize that they forgot to [insert independent work requirement here]. So before you anxiously hit the "submit" button, here's an independent work checklist you might want to quickly run through:
Section Requirements
Depending on which department you're in, there are certain sections of text your readers may expect to see. In addition to writing your typical introduction, body, and conclusion, you may also need to include a:
Title Page

Acknowledgements

Table of Contents

Abstract

Appendix
These sections may not take long to complete, but can easily get forgotten in the milieu of finishing your analysis. If you haven't started them already, try to save at least 30 minutes at the end to incorporate these additional pages.
Formatting
Although this one may seem trivial, formatting is perhaps one of the easiest requirements to make mistakes in. Again, each department is different, so it'll be helpful to get confirmation on the following parts:
Font

Single or Double-sided Printing

Page Numbers

Margin Sizes

Page Limit / Word Count
This is also applicable to submitting your independent work, since your department will probably want your Thesis/Junior Paper turned in in a particular way. Before handing your material in, make sure to ask your adviser or departmental representative about the following details:
PDF or Word Document

Bound or Unbound Copies

Number of Hard Copies

Number of Electronic Copies

Submitting to Mudd Library*
It's also important to note that formatting requirements may vary depending on which company you use to print and bind your independent work, so make sure to check business websites before filing your orders. If you find that you're particularly struggling to fix the format in Word, you can find specific tips here.
*If you need further assistance submitting your work to the University Archives, you can find more information on the Office of Undergraduate Research page with further details about Thesis Central.
Bibliography
As you've been writing your Thesis and Junior Paper, you've probably already been incorporating in-text citations or footnotes. But don't forget to include a complete list of works cited at the end of your paper. Likewise, make sure your citations are in the proper format (e.g. MLA, Chicago, APA, etc.). Even if you used an online generator to produce your bibliography, a quick skim through your books, articles, and websites wouldn't hurt. Not only will it help you avoid any Honor Code complications, but it will also be a helpful source of references for your readers.
Honor Code
Speaking of the Honor Code, don't forget to add it and sign it on your independent work! In case you forgot what it is or are pressed for time to look up the exact wording, you can copy and paste the following text:
"This paper represents my own work in accordance with University regulations."
Although this post covers the basics, you should still check your Departmental Guidelines for Independent Work to make sure you're covering all your bases. Moreover, if you find that you're worried or confused about any requirements, don't be afraid to reach out to your Departmental Representative or to ask a peer. Finally, take a deep breath! Even though you're almost there, taking a few extra minutes to check off these boxes will be worthwhile.
— Taylor Griffith, Social Science Correspondent