Until recently, I only watched TV and movies in order to decompress. There's nothing quite like lying in bed after a long day, lulled to sleep by my favorite Netflix show. Requiring minimal effort, movies acted as a brief escape from my reading- and writing-heavy coursework.
Like many Princeton students, though, I sometimes felt guilty choosing to watch TV over, say, finishing my readings for precept the next morning. But a few weeks ago, my professor introduced me to an invaluable resource called Kanopy. Completely free for all Princeton students and faculty, this site provides over 30,000 films for streaming on any device. But Kanopy isn't just another Netflix or Hulu: it's specifically designed for use in research institutions.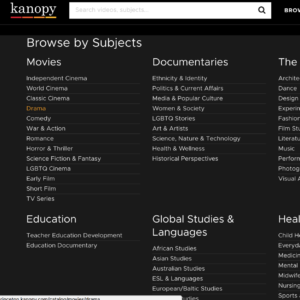 The Kanopy collection consists mostly of award-winning classic, indie, and documentary films. But in addition to sorting films by genre, the site tags each film with the relevant academic disciplines. This makes it super easy to find films relevant to your area of research.
Designed for a diverse community of researchers, Kanopy has something for everyone—with films about the arts, business, education, global studies and languages, health, media and communications, sciences, and social sciences.
Kanopy has helped me learn about subjects not covered explicitly in my coursework. I'm currently working on three final papers focused on Indigenous Studies – a subject that can be hard to access on campus. For the most part, I've relied on print sources from the library to help me develop my arguments. However, since discovering Kanopy, I've started using its Indigenous Studies film collection to learn more about the topics that interest me. There are nearly 800 films in this specific collection – spanning just about every continent and genre – and I've enjoyed both perusing and watching them. Some of my favorites have included: "When Two Worlds Collide: A Battle for Indigenous Amazonian Land," "Young Lakota: A Native American Leader Fights for Reproductive Rights," and "Our Spirits Don't Speak English: Indian Boarding Schools." Kanopy also recently added a series of short cartoons from the Aboriginal Nations of Australia, depicting traditional folktales and myths.
Using Kanopy is also a great way to have fun and relax while moving ahead with a research project. Even though they serve an educational purpose, the films on Kanopy tend to be just as enjoyable as anything you might find elsewhere! If you're looking to expand your sources for a research project – or even just hunting for something to watch – be sure to check this resource out.
–Rafi Lehmann, Social Sciences Correspondent