As spring semester gradually picks up the pace, there are many things to think about depending on your class year. As a senior, you might be thinking about your thesis deadline that is quickly approaching. Juniors might be focused on their Junior Papers. First-year students are preoccupied with mastering a new semester they've never experienced. Sophomores have a whole different challenge to tackle: major declaration (check out related posts here and here).
Towards the end of the spring semester, most sophomores will have to declare their intended concentrations, which is usually followed by taking a photo posing in front of your major's banner in the McCosh courtyard. Some students have a department in mind when they matriculate to Princeton; on the other hand, many others do not have a single clue. As you go through your first and second years at Princeton, your interests might become clearer to you as you take classes in different departments and start figuring out which ones you enjoyed more. However, even after taking classes in different departments, some students still are unsure about what they want to concentrate in. All of these situations are okay and totally normal!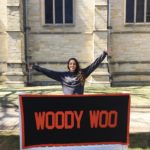 As major declaration season approaches, I've taken some time to reflect on how I came to choose the Woodrow Wilson School of Public and International Affairs as my concentration at Princeton. Hopefully, by shedding some light on my own process, I can provide some helpful tips and tricks on how to survive major declaration.
I came to Princeton with a department in mind. In high school, I wrote a research paper on child marriage, and I was inspired to learn more about international issues and become a lawyer. I thought the Woodrow Wilson School would be a perfect fit for me to expand my knowledge about foreign policy within an international relations track while gearing up for law school after Princeton.
However, it wasn't always easy. After being accepted and starting my first year at Princeton, I learned that both the Woodrow Wilson School and the Politics Department had an international relations track. A friend of mine with extremely similar interests and goals had her heart set on the Politics Department, and I began wondering if I was making a mistake choosing the Woodrow Wilson School.
Nevertheless, I worked my way through the prerequisites for the Woodrow Wilson School, and I came to appreciate how diverse they were. Instead of taking classes in mostly one department, I've been able to take courses in a wide variety of disciplines, enriching my educational experience. Now, not only am I learning about foreign policy, but I am also learning about sociology, psychology, quantitative disciplines, and more!
So, while you're deciding on what concentration to declare towards the end of the semester, start thinking back on all of the courses you've taken so far. I tended to gravitate more towards Woodrow Wilson School courses during my first and second years, which made it obvious to me that I should concentrate in the department. Which ones have interested you the most? Which ones did you find to be a drag? Which ones could you see yourself studying more in-depth in the future and doing research in? If those classes that stand out in your mind happen to be in the same or similar departments, that's a good sign! Doing this self-reflection early on in the spring semester made major declaration season much easier and more relaxed for me, so I definitely recommend it!
–Andrea Reino, Social Sciences Correspondent