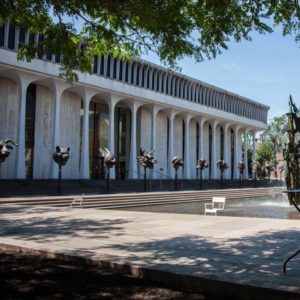 If you're caught up on some of my earlier posts, you'll remember that I've been working on my Junior Papers all year, ultimately gearing up towards the independent work that my senior thesis will require. However, as an underclass student, I was definitely unclear about what the senior thesis process would entail. I thought it was something I wouldn't have to worry about until my last year at Princeton when, in reality, it starts much earlier than that (scary!!).
Every thesis process is different depending on your department, so I can't speak for all of them. However, in the Woodrow Wilson School, students start preparing for their theses during their junior year (in some majors, it starts even earlier!). For example, at the beginning and end of the fall semester, I attended information sessions that taught me what to expect from senior year and how to prepare for my thesis. The meetings helped me realize that I had to start looking for a thesis adviser. Although some students wait until the end of junior year or the beginning of senior year to choose an adviser, I plan to do research over the summer, and in order to apply for funding, it is helpful to have an adviser in mind early on.
Every student who writes a thesis must choose a thesis adviser. Some seniors I have spoken to have said that it's helpful to meet with multiple potential advisers before selecting the one you wish to work with. For me, this presents a strange yet exciting power dynamic that I have never encountered before: for the first time, the student has a sense of agency and the ability to make their own decisions about a project from the very beginning.
So, what should I have in mind as I meet with potential advisers? How do I even select the potential advisers? I have compiled some advice below that I've received from various seniors.
Decide on a thesis topic. It doesn't have to be a well-thought-out plan; it just needs to exist in some basic form. You shouldn't select an adviser without a thesis topic! See tip number two to understand why.
Look through the list of faculty members in your department. Each faculty member should have a short description of themselves and their research interests next to their name. Use this description to select a few professors whose interests match up with yours/your thesis topic.
Email the professors. Make sure you have options before you make your final decision. Meet with each professor and explain your thesis topic. Go to the meeting prepared with some notes about your topic to show that you're serious about it and that you've done some preliminary research.
Ask questions about their expectations! Is the professor an active adviser, or are they more hands-off? How often would the professor want to meet with you during your senior year? It is important to understand their expectations so that you aren't blindsided senior year.
Make sure the professor is aware that you are meeting with other professors. Just as it is important to know the professor's expectations of you, it is important they know your expectations of them. Transparency is so important during this process. Be clear from the beginning so that the professor knows nothing is set in stone yet.
The senior thesis process can feel far away and daunting, but as a junior, it isn't as far away as it seems. Keeping these helpful tips in mind will give you a head start and make the process a lot less stressful!
—Andrea Reino, Social Sciences Correspondent