For this year's Spring Seasonal Series, entitled Post-Princeton Life: The Experiences of PCUR Alumni, each correspondent has selected a PCUR alum to interview about what they have been up to. We hope that these interviews will provide helpful insight into the many different paths Princeton students take after graduation. Here, Shanon shares his interview.
~~~~~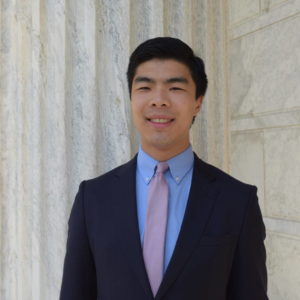 As part of our Spring Seasonal Series, I interviewed Nicholas Wu '18. I first met Nick in the fall of my first year, in a class called American Politics. For the remainder of Nick's Princeton career, he and I shared the occasional class, and eventually, both became PCUR correspondents. I've long admired Nick's curiosity and talent for critically evaluating contemporary politics, so I'm thrilled that he's now making a career out of that interest. As you'll see below, Nick has actually just accepted a job as a politics reporter for USA Today! So, I encourage you to read on to learn more about Nick's early career experience and his advice for those of us still on "this side of paradise."
What was your thought process during your senior year about post-graduation opportunities? Did you have a clear idea of what you wanted to do? If not, how did you navigate that challenge?
I applied to a lot of different things my senior year — everything from fellowships like SINSI and P55 to full-time jobs in policy and media. I had some idea of working in media or policy-related fields, but wasn't quite sure exactly what form would come in. In the end, I got kind of lucky. I was on Twitter one day, and someone, I forget exactly who (it might actually have been Jeff Goldberg) had tweeted out a link to the Atlantic Media Fellowship. I applied to that and then went through the interview process for that program. Around spring break my senior year, I found out that I got that job, and then decided to go with that fellowship after graduation.
How did you select your first job after graduation?
So, my first job after graduation was at National Journal, where I'd been placed through the Atlantic Media Fellowship. I picked that job because it combined a lot of my interests in media and policy, and also would allow me to work in Washington, D.C. Although it was a yearlong job, I figured that it would put me somewhere I'd be able to grow professionally — and working in DC wouldn't be the worst thing, either.
You mentioned a recent job change—where are you working now? And why did you decide to make the switch? 
On Monday, April 22, I started as a politics reporter at USA Today, where I cover breaking political news. I decided to make this switch because I'd been looking around at other job opportunities after I finished my fellowship, and then this one happened to come along a bit sooner than expected. It was too good of an offer not to take, so I made the decision to leave the fellowship program a few months early.
In light of your early career experience, what advice would you give to current students on how to best utilize their remaining time at Princeton?
First of all, don't stress too much about jobs. The frenzy in the fall over finance and consulting recruiting distorts the fact that the great majority of people don't get their jobs until a few months before they actually start the job. I'd also remind everyone to take some time to enjoy their remaining few months — there are few times in life, especially if you're a PTL senior, that you'll be able to enjoy the sort of academic and social environment that a campus provides. Go to that free lecture. Watch your friend's show. Actually show up to the movie screening you'd RSVPed to on Facebook!
—
I hope you enjoyed reading this interview with Nicholas! Of course, if you want to hear more from him, you can find him at USA Today. And, if you're curious about other post-Princeton pathways, be sure to check out the rest of our Spring 2019 Seasonal Series!
–Shanon FitzGerald, Social Sciences Correspondent