For this year's Spring Seasonal Series, entitled Post-Princeton Life: The Experiences of PCUR Alumni, each correspondent has selected a PCUR alum to interview about what they have been up to. We hope that these interviews will provide helpful insight into the many different paths Princeton students take after graduation. Here, Saira shares her interview.
~~~~~
As part of the Spring Seasonal Series, I interviewed Stacey Huang '16, who was an engineering correspondent in the electrical engineering department. Stacey is now pursuing a Ph.D. in electrical engineering at Stanford University. As an engineering student who is also interested in pursuing a graduate degree, I interviewed Stacey to find out more about her research experience.
Coming to Princeton, did you know what career path you wanted to take? If not, how did this change during your time here?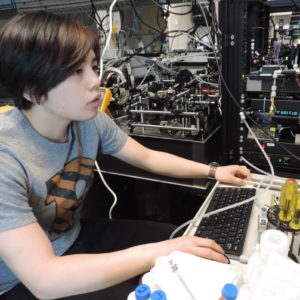 I hadn't had a good idea what I wanted my career to look like—I just knew I wanted to study engineering. The welcoming faculty and emphasis on research ended up being hugely important to me, because throughout my time at Princeton, I was heavily involved in research, and I realized that I really liked it. I was encouraged by mentors—my adviser and graduate students in the group—and made me feel like I could succeed in research. Pursuing a Ph.D. was not part of the plan until pretty close to the time I needed to start applying to programs. It was a rather last-minute decision in that respect, but I'm very glad I ended up reflecting on it and deciding to do it. I'm very happy in the Ph.D. program I'm in right now.
How did your undergraduate research help you decide to attend grad school?
Ultimately, being involved in research was the fundamental factor that made me decide that I wanted to pursue a Ph.D. program. I discovered that I really like doing research. Additionally, being encouraged by supportive mentors around me gave me more confidence in my abilities as a researcher.
What other experiences helped you make this decision?
I spent my summers doing research, so that contributed a lot to my interest and confidence as well. I also had a large pool of mentors to draw on as a result. The experience that really kicked off my involvement with research was participating in a Research Experience for Undergraduates (REU) at Rice University for the summer after my first year. It really snowballed from there. At the same time, I had always had a lot of insecurities about being academically capable, so being involved in other activities that I liked and could build my confidence in important skills also helped me decide. A big side activity for me was science writing—like PCUR! I also wrote for the SEAS Office of Communications. It made me feel like there was a niche I could fill within the research community and that I didn't need to force myself to do what everyone else was doing in order to succeed.
How have your undergraduate research projects helped you with the research you are working on now?
The skills I developed working on research projects as an undergraduate were very important. How to persist in the lab even when things don't make sense or are frustrating. Learning how to make mistakes without completely beating myself up over them. How to plan and execute a more complex and long-term project that fits into larger research projects graduate students are doing. Content-wise, the projects are related tangentially (I'm still working on remote sensing), but I'm working on a different aspect (signal processing rather than hands-on work with optics) and using a different modality (radar instead of infrared). Getting involved in something, even though I knew nothing about it initially, was how I was able to get a better sense of the work and topics I like.
What advice would you give to current Princeton students on how to make the most out of their time at the Princeton?
Try as many things you find interesting as you can—that's how I was able to get a better sense of what I liked doing and what I could do. I applied to several programs I was rejected from or that didn't pan out, and I tried many different groups and extracurriculars I didn't end up pursuing until senior year. But some things, like science writing and research, really stuck. At the same time, it's important to know when and how to say 'no' to things for the sake of your own sake. I wish that's something I had been better at doing.
—
As Stacey suggests, it is important to try different things during our time here, as these experiences will ultimately help us figure out what career path we would like to take. With this new perspective, I am excited to begin new research projects and activities to continue discovering the things I am really interested in.
–Saira Reyes, Engineering Correspondent