For this year's Spring Seasonal Series, entitled Post-Princeton Life: The Experiences of PCUR Alumni, each correspondent has selected a PCUR alum to interview about what they have been up to. We hope that these interviews will provide helpful insight into the many different paths Princeton students take after graduation. Here, Rafi shares his interview.
~~~~~
I met Melissa, the former PCUR Chief Correspondent, in my first precept at Princeton—Professor Duneier's SOC 101 – "Introduction to Sociology" in the fall of 2016. It was an intimate and difficult precept where we discussed race, gender, and class—conversations that were quite new to me at the time. Many of our discussions from that precept have stayed with me and guided my current academic work. The following semester, Melissa sent me an email telling me to apply to write for PCUR… and the rest is history. This past week, I caught up with Melissa over email to hear more about her time since graduation and her reflections on post-grad life.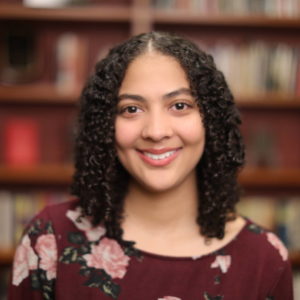 What have you been up to since graduating?
After graduating from Princeton in 2017, I went straight to grad school at Harvard University's John F. Kennedy School of Government (HKS). It's pretty rare for public policy students to go straight from undergrad to grad school — I'm one of the youngest in my cohort – but my two years at HKS have been incredible. I'm excited to graduate with my Master of Public Policy (MPP) in a few weeks!
How has your research experience changed since graduating? 
At HKS, I've focused on political communications – things like message strategy, speechwriting, digital content, and how to drive earned media.  I've also spent time at the intersection of politics and sports, studying how athletes can use their voice and their platform to spur positive changes in the policy world.
Some of my favorite memories at HKS came from sports-related work. I planned and moderated a panel about sports and racial justice, where NBA and NFL athletes joined other figures in the sports industry for a dialogue about how to move forward. Between my first and second years at Harvard, I joined The Players' Tribune to help athletes tell stories about the issues that matter to them, which often included topics like gender equality and immigration reform. And my HKS thesis – called a "policy analysis exercise," or "PAE" for short – explored how athletes can use new strategies to maximize their sociopolitical impact.
In my research papers at Princeton, I definitely looked for ways to explore the political impact of athletes and celebrities. But grad school gave me the chance to really dive deep in this area.
How has your research at Princeton shaped your post-grad work? 
Completing two JPs and a senior thesis at Princeton made me really appreciate the fundamentals of research. And once you've learned the fundamentals of research, you realize that everything is a kind of research project: No matter what job or program you're in, you always need to collect the facts, analyze them in some way, and figure out how to present your finished product to the world.
This has been relevant to every single paper and project I've done at HKS. For example, in my class on Modern American Political Campaigns, I spent a semester in the role of campaign manager, and I led a team that wrote a full campaign plan and communications plan for the 2020 election. I was really happy with the final product because my group came up with creative and effective ideas to mobilize voters. But we were only able to do that because we started by studying who the voters are, what they care about, and how their stories intersect with the current political moment.
Do you have thoughts on how to choose a path after graduating from Princeton?
Resist the temptation to try to "be" something. Focus instead on trying to do something. You'll find more fulfilling work, and you'll be proud to do it.
What's next for you?
I'm exploring a few opportunities in political communications!
How has mentorship changed for you since graduating?
 At Princeton, I was lucky enough to count incredible professors and faculty members as some of my mentors. At Harvard, I've learned that your peers can also be incredible mentors as you try to plan and achieve your goals. This is especially true of the peers I've gotten to know as a Sheila C. Johnson Leadership Fellow in Harvard's Center for Public Leadership. We're all students at HKS, but we come from different fields and have access to different networks. Hearing my fellow Fellows reflect on their journeys has resulted in many insights and action steps related to how I should think about mine.
Thank you, Melissa, for taking the time to share your reflections and to reconnect with the PCUR community. I especially loved hearing your thoughts on the vast applicability of research skills—I sometimes doubt the usefulness of my research projects, so it's good to hear research skills can be applied outside of academics too. Keep in touch! 
–Rafi Lehmann, Social Sciences Correspondent