For this year's Spring Seasonal Series, entitled Post-Princeton Life: The Experiences of PCUR Alumni, each correspondent has selected a PCUR alum to interview about what they have been up to. We hope that these interviews will provide helpful insight into the many different paths Princeton students take after graduation. Here, Andrea shares her interview.
~~~~~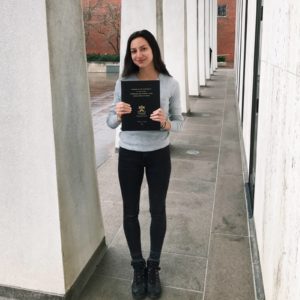 For this semester's seasonal series, I decided to interview PCUR alum Emma Kaeser, a Princeton graduate from 2018 and a current student at Stanford Law School. While at Princeton, Emma concentrated in the Woodrow Wilson School (WWS); as a WWS concentrator and someone who is planning on going to law school after I graduate, I thought it would be interesting to ask Emma a few questions about her experience here and how it shaped her post-graduation trajectory.
How did your concentration/certificate at Princeton shape your interest in law school? Had you been considering something other than law school? 
I concentrated in the Woodrow Wilson School, so many of my core courses dealt with law and policy. While taking those courses, I realized what a powerful tool the law can be for someone who wants to have an impact in a field (whether that field is policy, politics, business, etc.), and that realization definitely informed my decision to apply to law school. My thesis, which analyzed policies on the provision of maternal health care in state correctional facilities, involved a substantial amount of legal research that I found to be uniquely engaging. I already knew that I was going to Stanford when I conducted that research, but nonetheless, the experience deepened my interest in law school. I started considering law school pretty early on (around my sophomore year at Princeton), and, by the following year, I knew that I wanted to go, so I didn't end up applying for other opportunities like jobs or fellowships.
How did you manage to study for the LSAT? Were you studying for the exam during Princeton and while writing your thesis?
I studied for the LSAT over the summer between my junior and senior years, so I could focus on my independent work when I returned to Princeton. I took the LSAT in September, applied in the fall of my senior year, and started law school the fall after I graduated from college. This timeline worked well for me—I had a summer job with reasonable hours so I could balance work with LSAT studying, and I felt ready to apply by the fall. But, many people applying to law school have different timelines, and most take time off between college and law school. There is certainly no one path that everyone takes.
Do you feel that your four years at Princeton adequately prepared you for law school? What worked? What didn't work?
My four years at Princeton prepared me to dedicate a lot of time to focus on my classes. I found Princeton to be academically demanding, and I worked hard on my course work and independent research. The work ethic and time management skills that I developed have definitely come in handy at law school. I didn't take any law school-style classes (like Constitutional Law) at Princeton, and I don't think that doing so in college is necessary for law school. However, for someone interested in learning more about the legal field to decide if law school is a good choice, taking an undergraduate class like Constitutional Law could be an informative experience.
—
As Emma said, there isn't one single path that everyone takes after Princeton. For example, most people I have spoken to about advice have urged me to take a gap year between Princeton and law school. However, talking to Emma and learning about her experiences have made me even more confident about my future plans! Hopefully, this post can help shed some light on one possible path out of many!
—Andrea Reino, Social Sciences Correspondent