For this year's Winter Seasonal Series, entitled Research Resources: Unsung Heroes, each correspondent has selected a faculty member, staff member, or peer working for a research resource on campus to interview. We hope that these interviews will provide insight into the variety of resources available on campus and supply the unique perspective of the people behind these resources. Here, Andrea shares her interview
~~~
For my seasonal series post, I chose to interview Ellie Breitfeld, PCUR's Chief Correspondent. PCUR is an excellent research resource on campus, and I often find myself perusing through the many blog posts in search of contributions that can help guide my own research in the right direction. As the Chief Correspondent, Ellie embodies PCUR, and I thought it would be helpful to find out more about what she does and how it shapes PCUR!
What do you do?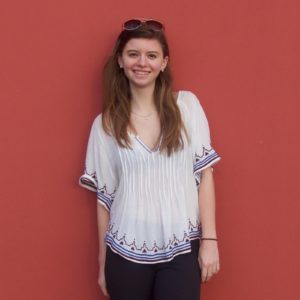 As the Chief Correspondent of PCUR, I am in charge of reviewing and editing all of the posts on the blog and overseeing all of our correspondents. This means that my primary responsibility is making sure that all of the posts on the PCUR blog are as relevant and informative for our readers as possible. I try to make sure that the topics included on the blog cater not only to upperclassmen students working on their own independent research, but also to underclassmen who are adjusting to what research looks like in their introductory courses, such as Writing Seminar.

How did you arrive at this job and why did you choose it?
I became Chief Correspondent after joining PCUR as a correspondent at the beginning of my sophomore year. Since coming to college, I had always been fairly certain that I wanted to pursue a career in academic research, specifically in Psychology. So, I looked for opportunities to immerse myself in the research community at Princeton. Besides joining a research lab and selecting research-based courses, PCUR was a great opportunity not only to reflect on my own research experiences, but to give other students advice about how to also get involved in research. I was particularly excited about this second part⁠—becoming a source of guidance and advice for students on campus⁠⁠—so the Chief Correspondent position was a great way to do this and play an important role in shaping PCUR to be as valuable of a resource as possible.

What is your favorite part of your job?
My favorite part about this job is that every week when I review correspondents' posts, I learn something new. This might be something about a correspondent's own research project, this might be information about a resource on campus that I was unaware of, or it might be a description of a research-related event on campus I hadn't heard of. This is exciting and valuable to me personally, but it is also incredibly rewarding to know that I am also playing a part in sharing this information with other students as well.
How can students best use PCUR as a resource?
I think the way many students use PCUR is to keep an eye on the titles of posts we publish and then read the ones that grab their attention. While this can definitely be extremely helpful, especially because we try to write timely posts and cater our topics to things that are currently relevant in the academic calendar, I think students forget that when they run into a research challenge, PCUR is also a resource they can use to search for answers. Our blog has a search bar where you can search for keywords in posts, for example if you have a question about course selection, and we also have a form where students can submit questions they would like to see addressed on the blog. Finally, for students that are interested, becoming a PCUR correspondent is also a great way to help students reflect on their own research endeavors.
What is the most common advice you give?
The most common advice I give to correspondents as they brainstorm post topics for the blog is to adopt a broad definition of research. This is especially important at a liberal arts institution like Princeton, where students are engaging in research in so many different disciplines and each of these types of research looks different. The advice I hope to relay to students reading our blog is that the research process can be messy, and this is ok–in fact, it can oftentimes lead researchers in new and exciting directions. I encourage correspondents to write about their own research struggles and reflect on the ways that these difficulties ultimately strengthened their projects. I hope that PCUR can be a source of reassurance for our readers; research isn't perfect, there is value in the process, and PCUR helps students, hopefully, get the most out of this process as possible.
How does this position fit into your future plans?
I am currently applying to Ph.D. programs, and experience with organizations like PCUR, which focus on making research as accessible to the general public as possible, is really important. A common criticism of academia is that it is not accessible and it is often difficult to find examples of scientific findings that are communicated responsibly and accurately in the media. So, I hope to use what I have learned through working with PCUR as I continue in academia to make sure that my research does not only improve scientific knowledge, but that it can also be shared with the larger society.

Ellie's experience as PCUR's Chief Correspondent speaks to the many groups on campus that are focused on helping students with their research. I hope this interview has provided valuable insight into Ellie's day-to-day responsibilities!
–-Andrea Reino, Social Sciences Correspondent