April 15th is the universal deadline for committing to graduate programs across the country. So, just a few short weeks ago, my graduate school application process came to end when I decided to commit to attend the University of Wisconsin-Madison's Psychology Ph.D. program. This decision was not an easy one by any means; there are so many factors to consider when choosing which program is the best fit. For me, the decision came down to thinking back to my experiences during all of my visiting/interview weekends.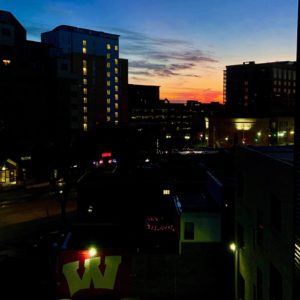 During the interviews themselves, my mind was, understandably, primarily occupied with ensuring that I was putting my best foot forward and engaging intellectually with potential faculty advisers, as well as current graduate students, since I was hyper-aware that everyone in the program was evaluating me. However, the best advice I had gotten before going on my visits was that these weekends are as much about the program evaluating you as a candidate, as they are about you learning more about the program and determining if it is a good fit for you. So, I want to pass on that advice and highlight a few things that I found helpful to pay attention to during interview weekends that ultimately played into my final decision-making process.
Pay attention to how your potential mentors respond to your research ideas. For me, one of the most exciting things about graduate school is that it is an opportunity to begin developing my own line of research that I will be able to continue working on as a postdoctoral researcher, and hopefully as a professor. So, it was important for me to know that my graduate school adviser would be supportive of me developing ideas and projects based on my own interests and not expect me to take on their existing research. There are also people who are really excited about being able to work on their advisers' projects, which is also a great option. Think about which types of research opportunities you want in graduate school and ask your potential adviser what their students' research typically looks like during their first year in the program. This will give you a sense of whether students are encouraged to start their own projects or continue existing ones. Also, take the opportunity to share some of your research ideas with your potential adviser to get a sense of how well your interests match up.
See how well you mesh with current students in the program. During all of the previous steps in the application process, you don't have many opportunities to talk to current graduate students in the programs you are applying to. It is common to have an informal phone call or two with potential advisers before you apply, and if you are lucky, they might put you in touch with one of their current students to tell you more about the program. However, I had not had the chance to talk to current students before my interview weekends, and during these weekends there is usually some sort of mixer or dinner where you are introduced to current students (see PCUR alumnus, Jalisha Braxton's post, which provides more details about the logistics of graduate school visits). I realized that the make-up of the cohorts, or classes, of graduate students at each program were very different in terms of the students' backgrounds, age, professional goals, etc., and it was easier for me to see myself fitting in with some cohorts than others. While, of course, the other students in your graduate program will not be the only ones you are socializing with, it is important to consider how well you see yourself getting along with the other students you will be working with, especially since many graduate programs are fairly small and students take many of their classes together.
Make note of how comfortable you feel walking around campus. Like I mentioned in my second post in this series, location was an important factor for me to consider when choosing what programs to apply to. However, even though I only applied to schools in places where I thought I could see myself living, visiting each campus was incredibly informative to confirm, or sometimes disprove, my initial intuitions. On some of my visits, I felt completely comfortable walking around campus and the surrounding area on my own and there were plenty of places I wanted to go and things I wanted to see. However, on others, when I had time to myself to explore, I felt overwhelmed or unsure of what to do. It is normal to feel a little anxious in a new place, especially during an interview, but take note of places which you feel more or less at ease.
During interview season, you will be confronted with a seemingly overwhelming amount of information about each program you are considering. Many students' first instinct, including mine, is to compile all of that information in a giant spreadsheet to help make your decision. While this can sometimes be very helpful, at the end of the day, if you ask any current graduate student, they will most likely tell you that their program decision came down to a gut feeling. Mine did too. So, pay attention to those gut feelings about your mentor, current students in the program, and the surrounding area—they often arise during visiting weekends. You know yourself best and you'll make the right choice for you.
—Ellie Breitfeld, Social Sciences Correspondent