Bhadrajee Hewage is an accomplished researcher in the humanities – he has conducted research in 5 continents, can speak 12 languages, and has published articles in several magazines and journals as well as his own book on Ceylonese Buddhist revivalism (with a second book on the way)! Bhadrajee graduated Phi Beta Kappa from Princeton in 2020 having majored in History and obtained certificates in South Asian Studies, African Studies, and Latin American Studies. I met Bhadrajee through the Davis International Center where he served as Leader Coordinator. From our first few conversations, I was immediately awestruck with the breadth of research he's done, and this is why I chose to interview him. His published works range from the early history of Rome and Tanzanian political history to the U.S. Civil War.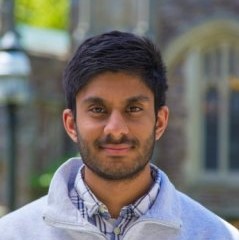 He is currently a DPhil Clarendon Scholar at the University of Oxford and recently obtained his degree as the Prize Research MPhil Student at the Joint Centre for History and Economics at the University of Cambridge. Broadly, his research interests lie at the intersection of colonial, religious, and intellectual history.
The interview which occurred through email has been edited for length and clarity.
A.R.: You have a wide array of experiences studying the history of different peoples and regions. What are the challenges typically encountered while doing research in history, and do you have any recommendations on how to overcome these?
B.H.: The challenge, I think, is finding something to say about topics that have already been heavily researched. I really recommend talking to your faculty advisers to find ways in which you can contribute to the crowded field of literature. If you find something interesting, there is always something to write about; you just need to find a novel way of reframing existing discussions on the topic or an angle that has yet to be explored.
A.R.: What was your biggest research-related challenge and how did you overcome it?
B.H.: For me, my biggest challenge has been COVID-19. History is all about sources, and being away from a fully functioning library is really tough. Thankfully, libraries across the world have in recent years been working on digitizing their collections, and I've been able to find a vast amount of material I didn't think I would ever be able to find!
A.R.: What is your most memorable research experience so far?
B.H.: Researching for my senior thesis. I really appreciate the funding I got from the department to travel to Sri Lanka. I spent time in the National Archives and in the libraries of different Buddhist organizations and temples. I was able to draw on a lot of material with which to write my thesis, and I certainly grew as a researcher from the experience.
A.R.: You are published in numerous magazines, articles, and even have a book published! Do you have any tips for getting published in the humanities?
B.H.: There are several undergraduate history journals both in the U.S. and further afield that take submissions of your coursework essays and independent papers. Princeton prepares you well to write strong essays and if you scored highly in any of your submitted work, you have a very good chance of getting it accepted for publication in an undergraduate journal! Publications also look great on your CV when applying for graduate school!
A.R.: This year, you completed your MPhil in South Asian Studies at Cambridge and are now at Oxford for your DPhil. Do you have any advice for those applying to graduate school?
B.H.: I think the most important aspect of graduate school applications is your research proposal. Graduate school application processes vary internationally, but the research proposal is a common requirement across all formats. It is the single most important part of the process because through the proposal, you show the admission committee that you have thought in-depth about a topic that has not yet been fully explored. A well-defined research proposal is also convincing because it shows exactly how you plan on investigating your chosen topic and that you are dedicated to spending a part of your life researching that issue!
A.R.: Any final words of wisdom for aspiring undergraduate researchers?
B.H.: Form strong bonds with your faculty mentors and trust their guidance! They know the wider academic field much better than you do!
Coming from a science and engineering background, I was not familiar with what research in the humanities looked like until I met Bhadrajee. My conversation with him showed me the breadth and depth of research opportunities available and that "there is always something to write about". One of my main takeaways from this conversation was the importance of having a supportive academic research community, no matter what field of research you are in. From conceptualizing research ideas with faculty advisers to looking up sources with librarians to the peer review process in publications, research is rarely conducted in a vacuum.
— Agnes Robang, Engineering Correspondent