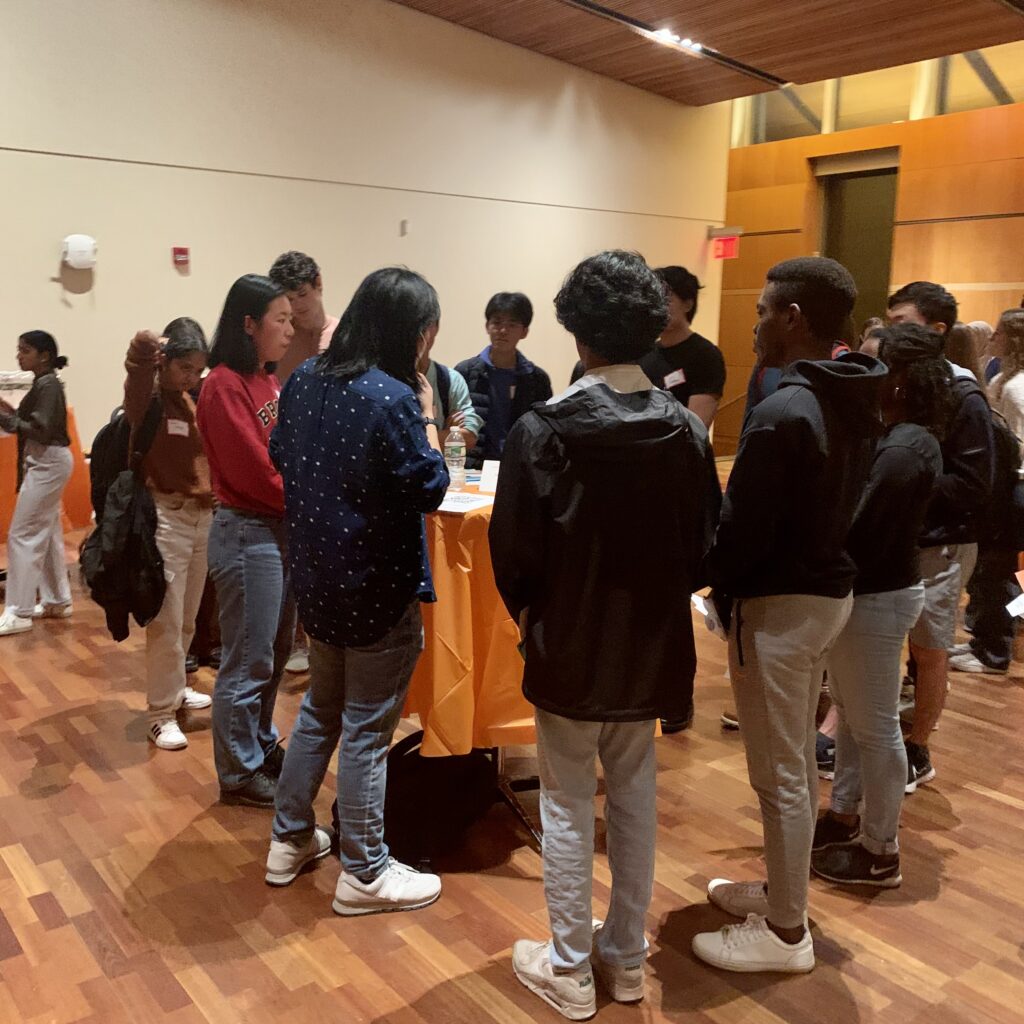 Princeton gives its farthest walks to its strongest academic weapons. Still, sometimes schlepping all the way to the Carl A. Fields (CAF) Center is just a bit too much. If you felt like this around 6:00pm on Tuesday October 4th or Thursday, October 13th, you just may have missed the first ReMatch dinner. No worries! I am here to fill you in on what you missed and hopefully convince you that the next one is worth the walk. First things first, ReMatch (developed and led by the Office of Undergraduate Research and the Graduate School) is a program that helps match first- and second-year undergraduates interested in research with graduate student and postdoc researcher mentors. Mentor and mentee pairs that develop potentially embark on a summer of research in Princeton fully funded by the university. At the dinners, students can eat catered food, mingle, and chat with researchers at tables. 
The vibe of the dinners is very chill and welcoming. Maybe this was just me, but as a first-year I thought since clubs on campus can be competitive, the ReMatch dinners would feel competitive and intimidating, but this is very far from the truth. The mentors at ReMatch are very approachable and excited to share what they are passionate about. I interviewed a few about why they wanted to be mentors including Marco Rupp, a second year grad student in the MAE Department who told me he had a good mentor when he was an undergraduate who was important to his career, and he wanted to "pass it back." I heard Marco's sentiment from almost every mentor I talked to. After all, grad students, postdocs, and even faculty all went through undergraduate education and had mentors that shaped them. As any graduate student can tell you, mentors are vital to succeeding in research, and at the ReMatch dinners great mentors are in no short supply. Any mentor who trekked all the way to the CAF is passionate about helping undergraduates grow in their research interests, so you should really come meet them!
As the Natural Sciences Correspondent, I know I spend quite a bit of time talking about hard science research, but don't be fooled. The ReMatch dinners feature mentors from many different fields, including politics, philosophy, and even musicology. I talked to Jeron Fenton, who described his research on American politics as "a form of self expression." Politics researchers have the opportunity to think critically about what they are interested in and come up with ways to evaluate hypotheses. Jeron told me, "It's all research. Non-STEM research follows the same general method – it just looks a little different." 
One cool thing about the ReMatch dinners is that you can talk to experts in fields you may be unfamiliar with, like American politics research, or maybe have never even heard of. For me, the latter was when I was talking with Natalie Miller in the Musicology department who has been a ReMatch mentor for the past 4 years! When I asked what draws her back to being a ReMatch mentor, she told me she had "a transformative experience in undergrad with grad students" who introduced her to the field of Musicology. She seeks to help broaden representation of fields that don't get as much airtime as larger departments, but are cool areas of research that just might be the right fit for you.
I asked if she had any advice for undergrads out there reading this blog, and she said "It's ok not to know" what research you want to do. Research is such a broad term, so sometimes you need to try on a few hats before you realize what you are truly interested in. Sana Asifriyaz ('25), for example, told me she had a research experience last summer, and it helped her realize she wanted something different. Though I hope any of you who pursue ReMatch+ have the coolest summer of your life, sometimes experiences that you don't like can be definitively more helpful in narrowing down what you want than enjoyable experiences. 
On the way out of the dinner, I talked to a few students about their experience at the dinner and luckily heard some good reviews. Maxwell Lin '26 said he "connected well with mentors" and that the dinner was "less intimidating" than he thought it would be. He told me that meeting ReMatch mentors even gave him the confidence to start cold emailing professors. Bottom line is, ReMatch dinners are a fun way to get to know different fields of research, chat with passionate mentors, and maybe even find a research project that transforms your path.
-Virginia Cobbs, Natural Sciences Correspondant
Editor's Note: First- and second-year students — it's not too late to participate in ReMatch this fall! Come join us at our Meals for Mentoring on November 8th or November 9th in the Carl Fields Center. You can sign up as a ReMatch mentee here, and register for events here (8th) and here (9th). You're welcome to join us only for the fall dinners – there is no obligation to apply for the ReMatch+ summer program if you're unsure yet of your summer commitments.