Every year, the Andlinger Center for Energy and the Environment organizes a conference where students, faculty, and industry professionals discuss research and innovations related to clean energy and other environmental solutions. The event features keynote speakers, faculty panels, poster presentations, amongst other sessions to introduce and highlight the work of different professionals. The purpose of this event is to educate students and professionals on new advances in energy technologyand to encourage even further research.
This year, I attended my first annual meeting, where I learned more about the clean energy research at Princeton and in New Jersey. In this article, I will reflect on some of the highlights from the event.
Phil Murphy's Keynote Address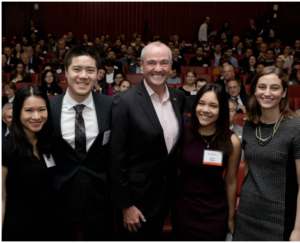 This year, the keynote speaker was Phil Murphy, the Governor of New Jersey. In his speech, Murphy addressed challenges in clean energy reforms, and suggested that innovation is essential to create environmental advances. He encouraged people to work together, because at these conferences, individuals can share ideas. Others can then step in and say "we can help."
At the address, I sat next to fellow students from New Jersey, the CEO of Public Service Enterprise Group (PSEG), Ralph Izzo, and the Dean of the School of Engineering and Applied Sciences, Emily Carter. Seeing individuals from different backgrounds coming together around a common goal reminded me of the importance of collaboration in research. While one lab cannot solve all of the energy problems in the state, the efforts of multiple people can. As institutional researchers, we are responsible for driving innovation and developing new technologies in our fields, thus it is important for us to collaborate in the lab and across the academic sector. 
Faculty and Industry Panels
Amongst the discussions, faculty in various departments spoke about their research. Representatives from other universities and companies such as Orsted and ExxonMobil were also present to speak about energy visions and advances at their companies. The topics discussed ranged from ocean wind turbines to innovative approaches to produce biofuels and even new technologies for clean transportation. These panels were useful to observe where we stand in energy research and where we plan to go.
Poster Presentations

Undergraduate students, graduate students, and postdocs from different engineering and natural science departments presented their research in a symposium-style poster session. I presented on the research I did during my summer internship with the Andlinger Center.
Throughout the event, I spoke with some of the presenters situated around me. I heard from a postdoc in the mechanical engineering department, Guang, about research in fluid dynamics to harvest energy. I also heard from a senior in the chemistry department, Gabriella, about electrochemistry reactions related to energy. In addition to learning about interesting research, I learned that Guang had been a TA for MAE305, a course which I am currently taking, and Gabriella had taken multiple courses in the Portuguese department, where I am interested in getting a certificate.
As I heard this, I thought back to what Phil Murphy had mentioned. The purpose of academic conferences is to connect people and encourage collaborations. Not only are we researchers, we are also students that continue learning from others.
—
The Andlinger Center Annual Meeting is designed to further conversation on research and innovation. Regardless of your academic background, these issues impact the community as a whole, and it is important to learn about the future of energy and environmental concerns.
If you could not attend (or even if you did), I hope that my reflections serve to inform you about some of the conference highlights and I encourage you to attend events at the Andlinger Center throughout the year. In addition, learning through collaboration in research is not limited to the science field. You can also look for similar events and opportunities to learn through collaborative research in other departments by visiting the Office of Undergraduate Research event calendar. 
–Saira Reyes, Engineering Correspondent