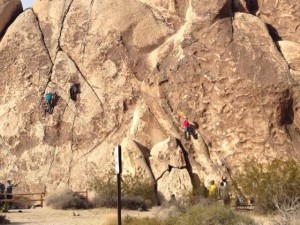 How would you like to travel to six of the country's most famous National Parks for your senior thesis?
My friend Eve Barnett, a senior in the politics department, did just that. Eve, who also leads Outdoor Action trips and rock-climbs with the Princeton Climbing Team, found a way to combine her academic training with her love of the outdoors. Her thesis focuses on how the Park Service addresses a controversial issue within the climbing community: fixed anchors, metal bolts pushed into a cliff face for climbers to clip into. Should they be allowed in National Parks because they increase access, or banned because they're a permanent change to the rock face? I sat down with Eve to learn more about her research journey.
How did you decide on a research topic? Was it related to your previous independent work?
It was totally unrelated! My fall JP was about international ocean conservation commissions, and my spring JP was about the different political experiences of high-income and low-income college students. I asked my thesis adviser what he thought about continuing with the college student project, but he recognized that it wasn't really my project since it was a small portion of a professor's ongoing research. He told me he believed my thesis topic should be something I have ownership of. So I started thinking, what do I love?
Continue reading Rocky trails: Researching what matters to you