This winter, for our seasonal series entitled "Professorship and Mentorship," PCURs interview a professor from their home department. In these interviews, professors shed light on the role that mentorship has played in their academic trajectory, including their previous experiences as undergraduate and graduate students as well as their current involvement with mentorship as independent work advisers for current Princeton undergraduates. Here, Andrea shares her interview.
~~~~~
Udi Ofer is a Visiting Lecturer in Public Affairs in the Woodrow Wilson School.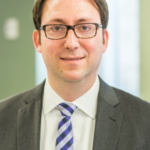 Outside of class, he is the Deputy National Political Director of the American Civil Liberties Union (ACLU) and Director of the ACLU's Campaign for Smart Justice, which is dedicated to ending mass incarceration in the United States. His background as a civil rights lawyer brings a valuable perspective to the task force seminar "Rethinking Criminal Justice: Policy Responses to Mass Incarceration," which he leads in the Woodrow Wilson School. I'm taking his seminar this semester, and because of my interest in his research (see posts here and here about my JP last semester, which was also about incarceration), I decided to interview him as part of PCUR's winter seasonal series.
Continue reading Professorship and Mentorship: A Conversation with the Woodrow Wilson School's Professor Udi Ofer