I've always struggled with citations: remembering where I should put commas, how to format journal names, how many authors I should list before writing et al (or was it et. al.?). Last year, my roommate caught me using my freshman year copy of A Pocket Style Manual as I complained my way through the tedious formatting of my junior paper citations.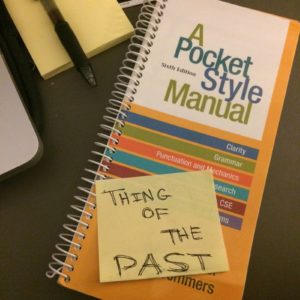 "You don't use Mendeley?" she asked me. "Oh, wow. Let me help you."
After saving many tedious hours with the help of a citation manager, I'm passing my roommate's wisdom on, by way of a 12-minute guide that can get you started using Mendeley. If your experience is anything like mine, you'll never go back!
Mendeley and Zotero, the two most popular free citation management programs, store sources and create formatted in-text citations, footnotes, and bibliographies. I use Mendeley, which has the benefit of allowing you to highlight and annotate PDFs within its desktop app. But I also have friends who swear by Zotero, which is better with non-PDF sources. (If you're torn, you can check out this helpful comparison.)
Both programs are extremely easy to use once you've started – it's making the switch that takes some effort. But fear not! In (approximately) 12 minutes you can be on your way. (For Zotero instead, you can try the online guide here, or attend a free training session in Firestone.) Continue reading Making Your Citations Cite Themselves: A Step-By-Step Guide to Automated Bibliographies