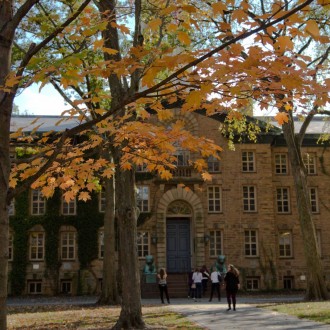 This fall has been an extremely hectic one for me- in addition to taking the typical Princeton course load of 4 classes, I'm also trying to balance starting my senior thesis research, working my various on-campus jobs, and applying to grad school. Recently, however, a new challenge has emerged: preparing applications for graduate fellowships. It came as a surprise to me that these applications are due well before any of my actual graduate school applications. Luckily, I've been able to find a few resources to help out with the fellowship application process, especially for research fellowships like the NSF.  I'm sharing my fellowship resources and strategies here to help anyone else who anticipates riding the senior year struggle bus while applying for fellowships.
Office of International Programs (OIP)- Fellowship Advisers
The fellowship advisers at OIP are an incredible resource to have when preparing fellowship applications. Not only do they have a wealth of knowledge about the fellowships that you're applying for, but they can also help you craft the essays and statements for your applications. Dr. Moloney has been an amazing help for me with applying for the NSF and Ford fellowships, and many of the recommendations in this post are actually ones I received from her! More information on fellowship advising can be found on the OIP website.
Professors
The faculty members here are extremely distinguished, and so there is most likely someone here who has received the fellowship you are currently applying for. Take time to explore the CV of any professors that work in your field, and if you find that they've received your fellowship in the past, don't hesitate to shoot them an email!
The Internet
It probably doesn't come as a surprise that Google is a great way to get more information about the fellowships you're applying to, but beware of becoming overly trusting of the information you read online. Fellowship guidelines and deadlines tend to change from year to year, so unless it comes directly from the fellowship's website, take precaution. That being said, there are tons of websites and blogs that offer general advice for applying to fellowships, and can be helpful for planning your application timeline, who to get recommendation letters from, etc. One website that I found to be extremely helpful was actually made by DJ Strouse, who is a Ph.D. student here and an RGS in Butler!! Check out his site here.
While balancing fellowship applications with everything else senior year can be somewhat of a challenge, these resources are sure to make your last year in the bubble a little bit easier. No matter what year you are, however, it's always beneficial to be aware of the resources that are available.
Best of luck with your fellowship applications!
–Jalisha Braxton, Natural Sciences Correspondent