Firestone is my favorite Princeton resource – but it has its limits, especially when it comes to primary source material (see my previous post). If I can't access a source through Firestone, my next step is generally the New York Public Library system. NYPL offers not only a beautiful place to study, but also a wide range of primary source material in their public collections.
I recently spent a day at the Schwarzman building on 42nd and 5th in order to access a microfilm copy of a Yiddish periodical published by Holocaust survivors in 1946. This was my first time researching at the NYPL and working with microfilm (the small reels of film used to store documents in pre-digitization libraries) – so I learned a lot in my few hours there.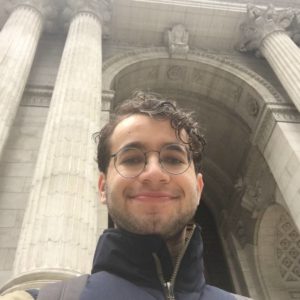 Here are some tips and tricks I gathered along the way:
Tip #1: If you don't already have one, you'll need to obtain a NYPL library card before you can access materials. You do not need to be a resident of New York – or even the United States – to apply for a library card. You can either apply for a library card when you arrive at the library or online within three months of your visit. IMPORTANT: You will need to provide proof of residency, which is basically any document confirming that you live at the address you reported. Because the document must contain your address, your student ID is NOT sufficient. If you use your school address, even a piece of mail with your name and address will work.
Tip #2: Before making the trip, double check that the source/s you seek are not available online in the digital collection. New materials are added every day to the online archive.
To save time, you can request items ahead of your visit here.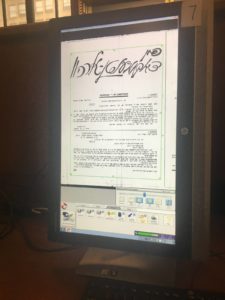 A page of the 1946 Yiddish periodical, Fun Letstn Hurbn
Tip #3: The NYPL has 92 locations in the Bronx, Manhattan, and Staten Island. Be sure to double check where your material is located, as well as the schedule of that particular division.
Tip #4: If you don't request an item ahead of your visit, you will need to submit a request when you arrive onsite. The librarian will give you a slip of paper with a short form on it – be prepared to write the item's information (title, author, year, catalogue number, etc.) or, at the very least, to locate its information online. It generally takes about 30-45 minutes for the library staff to retrieve an item for you.
Tip #5: If using microfiche, you will receive a small cardboard box with a film reel inside. You will need to bring this reel to the microfiche reading division – where I highly recommend asking a staff member to set up the machine for you. You don't want to accidentally damage the film, and it's actually pretty hard to figure out exactly how to load it into the machine. I also recommend using one of the newer machines, even if it means waiting for a seat to open up – they're much easier to use and, crucially, enable you to print and email copies of your material. Do not forget to return the box and reel to its original division before you leave.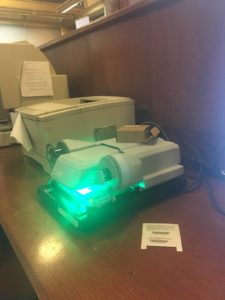 The newer microfilm machine — always ask for help!
Tip #6: If you have any questions ahead of your visit, you can call or email the librarians at any division here.
Overall, the New York Public Library is an amazing resource and definitely worth the trip. Even if you can't find the time to travel to the city, I encourage you to experiment with Firestone's microfiche library and explore the underutilized treasures of our very own A floor.
— Rafi Lehmann, Social Sciences Correspondent